The Green Goddess may be carrying the only normal people
and animals left in the world -- good thing
Josie and her Hero are on board.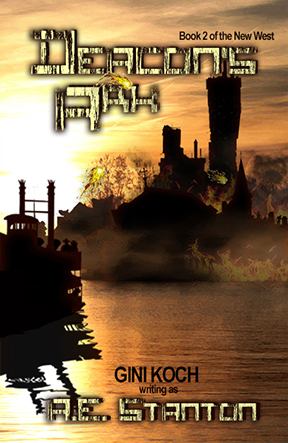 What's supposed to be a leisurely trip on the best riverboat cruising the Green River turns into a fight for survival for all the passengers, crew, and livestock on board the Green Goddess with the discovery that a plague from the Northern Wastes has attacked the river towns. Now Deacon and Josie have to use their wits, savvy, and experience to try save everyone on board, as well as the rest of humanity, from becoming cannibalistic mutants.

Want to know what's happening with me first? Send your email address to gini@ginikoch.com with "Hook Me Up!" in the subject line, and I'll add you onto my email blast. You'll be the first to know about news, excerpts, book releases, contests and more.
Iím also on Pinterest!
http://pinterest.com/ginikoch/
|Blah, Blah, Blah... |
| Bookstore |
| Alien Collective Depot |
| Licensed Products |
| Accolades |
| Playlist |
| Newsy Stuff |
| Datebook |
| Deathless Prose |
| Expanded Universes |
| Spotlight |
| Extra Me! |
| Free Stuff |
| Sightings in the Wild |
| Cool Links |
| The Centaurion Files |
| The Necropolis Files |