Welcome to Spotlight, where I get answers from people you want to know
about things you want to know about.

Christopher Baldwin

(Originally posted: Tuesday, March 5, 2013 on Blah, Blah, Blah...)

As promised, we have another treat for you today -- fun, funny and talented author and comics creator Christopher Baldwin is in da house!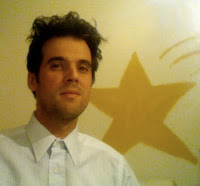 For those of you who may not know him, Chistopher writes and draws comics, novels, and plays. Published (self and otherwise) works include Bruno, Little Dee, Spacetrawler, and regular pieces for MAD Magazine. He's been written up in the Washington Post, Wired Magazine, IO9, Salon Magazine, UK Daily Telegraph, Newsbytes, and even appeared on NPR.

Catch all his webcomics Spacetrawler, on Mondays and Wednesdays; Little Dee M-Sat; and Bruno M-Sat; his joint foodie blog, Cookrookery; and his online store for regular doses of the funny.

GK: He is WAY FAMOUS, gang, so be good and pretend we behave ourselves on a regular basis, at least until it's your turn to ask questions. Then? Go for it. So, Christopher, it's great to have you here with us today. Let's roll right in. What prompted you to become a writer? Was it voices in your head, a burning desire to tell a story, or just too creative for your own bad self?
CB: The spark came from a love of reading and of humor. My mother read to my siblings and I, and we were often at the library getting books or audiobooks. Being a solitary child, I had lots of daydreaming hours to make up stories, and since I was bored in school, it gave me lots of free time to write and doodle them down.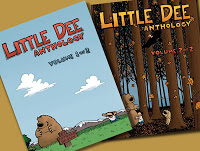 Also, both my parents worked at a tofu factory. Not only did this instill in me a deep appreciation for dark humor, but also, like Dorothy on back in Kansas, I knew I needed to get the hell out of there.

GK: You know, a part of me really wants to believe that tofu factory story... So! What was the first book or piece that you wrote and why? Is it published, being shopped, on the shelf waiting for you to get back to it, or in a heap of ashes at the bottom of the fireplace?
CB: I started writing stories and comics in elementary school, but what I consider to be my first serious work was a full-length play in iambic-pentameter I wrote my senior year in high school. I knew then that my writing was sorely undeveloped, but that I could capture the emotion of being a teen -- then edit it when I was older, more skilled, and out of touch.

I may decide to invent a time machine and go back and strangle my younger self instead of doing this. Have you ever tried to line-edit iambic pentameter? Stupid teenagers.

GK: I can honestly say that I never tried to get overly fancy with my early efforts and I would pass on that particular form of line editing. But I applaud your younger self for being slightly insane. Speaking of insane, give us a funny story about writing your latest release. It's okay if your funny story involves a nervous breakdown as the deadline loomed, btw. I like to relate to my guests.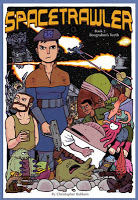 CB: My latest release was the book #2 of Spacetrawler. My online-store-order-fulfillment people didn't want to handle advance sales, but I chose to do it anyway. For about a week, my girlfriend would come home from work every day and sigh at me, hiding behind my carefully stacked skyscrapers of books, frantically stuffing padded envelopes.

GK: I know what massive amounts of swag I'm bringing with us to Tucson Festival of Books -- I can't make any comment about your Fulfillment Center. So, other than that, what's your most and least favorite things about being an author?
CB: My most favorite is that I get to sit around and make things up, my other favorite thing is knowing I've brought some laughter and delight into people lives, my other favorite thing is meeting other writers and talking to them about writing, my other favorite thing is putting my characters through the ringer, and... um. Right. Least Favorite things. Hm. Figuring out my taxes maybe? Really, I can barely express how much I love my job. Want to know MORE favorite things?

GK: Let's not talk about taxes, let's talk about one of my favorite things -- you. What's one fact about you that someone who didn't know you well or hasn't read this blog wouldn't know? Make it juicy -- my readers expect.
CB: Do you want the name of the ailment or the ointment?
GK: Both, and suggested applications and treatment methods.
CB: Kidding. Okay, um, I'm always curious about experiences from people's lives that are different than my own. One was to wonder what SOME women go through regarding body hair, and so I shaved myself bald, both my pits and down there, when I was in college. I've had the deepest sympathy ever since, and also feel I can confidently describe the experience of stubble growing back -- that isn't on one's face.

GK: You're the man. Crazy, but the man. So, can we get an excerpt, then?
CB: Sure, This is from Spacetrawler Book 2.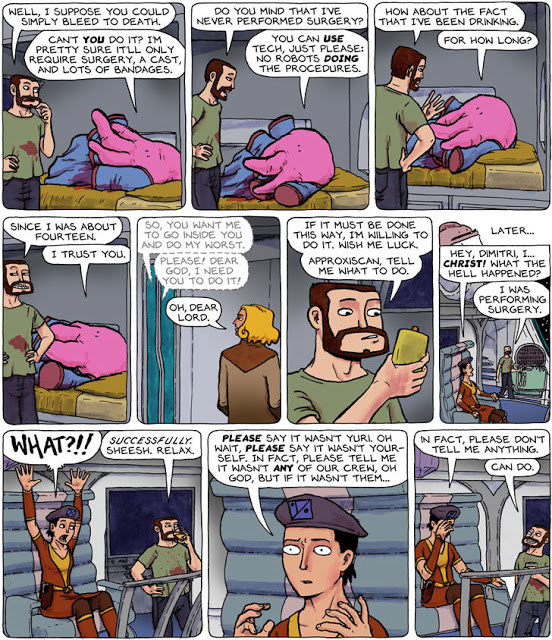 Shortcut to the Top



Erin Kellison

(Originally posted: Wednesday, February 27, 2013 on Blah, Blah, Blah...)

As promised, we have a special treat for you today. The ever-awesome Erin Kellison has dropped by to share with us!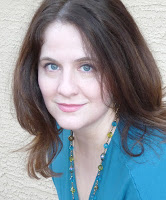 For those who might not know who she is, Erin Kellison is the author of the dark fantasy romance Shadow, Shadow Touch, and Shadow Kissed series. Stories have always been a central part of Erin's life. She attempted her first book in sixth grade, a dark fantasy adventure, and she still has those early hand-written chapters. She graduated summa cum laude with a degree in English Language and Literature and went on for a masters in Cultural Anthropology, focusing on oral storytelling. When she had children, nothing scared her anymore, so her focus shifted to writing fiction. For excerpts, newsletter, and giveaways, go to www.ErinKellison.com.

Erin, thank you for taking the time to answer some questions. My readers, and my website, appreciate!

GK: What prompted you to become a writer? Was it voices in your head, a burning desire to tell a story, or just too creative for your own bad self?
EK: Probably all of the above J. Writing has been a passion of mine since I was a kid. I asked for a typewriter for Christmas when I was in fourth grade. I don't think I got much further than typing the title, but stories have always been part of my life. I always have one going on in my head, and have been known to make them up about strangers I see at stoplights or at adjacent tables in restaurants. After I had kids I got serious about writing.

GK: What was the first book or piece that you wrote and why? Is it published, being shopped, on the shelf waiting for you to get back to it, or in a heap of ashes at the bottom of the fireplace?
EK: I've written a million bits and pieces over the years that are mostly in a trash heap somewhere. I wrote a crime thriller novel with my sister, unpublished. It taught me how to write a novel – it was the first thing I'd ever written that was longer than a few chapters. The first full-length book I wrote myself was also my debut novel, Shadow Bound.

GK: Wow. My first novel that I wrote...was not my debut novel. Or even close to my debut novel...*makes awed face* Moving on! Give us a funny story about writing your latest release. It's okay if your funny story involves a nervous breakdown as the deadline loomed, btw. I like to relate to my guests.
EK: I was happily working away on Shadow Hunt, my latest release in my Shadow Touch Novella series, making good progress, feeling the story, hitting my writing stride, when I was suddenly thrust into Hell. One night I got crazy sick and was in some serious pain. I went to the ER, absolutely certain I had food poisoning. I wanted the pain to stop. Drugs, please. I have a habit of self-diagnosing, so I told the doctor what I was sure I had, which she promptly disregarded. I always find disregarding my internet-based diagnoses so frustrating, though my track record is not good (two years ago, my "ulcer" was really appendicitis—thank you, Dr. Cheng, for insisting on those tests). Anyway, I had to have my gall bladder removed, so I was pretty far off on the food poisoning.

GK: OMG! So glad you're okay...and that your doctor doesn't listen to you, LOL. So, what's your most and least favorite things about being an author?
EK: My most favorite part is telling a story. When the writing is coming fast and easy and I'm in the zone, there's nothing better. My least favorite part is (pick one): stressing over deadlines, the moments where I realize I have to delete entire passages that I've worked on for days because they just don't work, etc.

GK: Yeah, that deleting entire passages thing is not my fave, either. Now, for the biggie. What's one fact about you that someone who didn't know you well or hasn't read this blog wouldn't know? Make it juicy -- my readers expect.
EK: I love to people-watch and eavesdrop on people when I'm out in public.

GK: So, Eavesdropping Author, can we have an excerpt?
EK: Yes, this excerpt is from Shadow Hunt, part three in my Shadow Touch Novella series: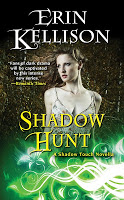 Marcie rinsed her chef's knife in the kitchen sink of the Segue Institute, and in a flash of overhead light on the long triangle of steel, she caught the brief reflection of an unfamiliar brown-haired man watching her from the doorway. Something about the tilt of his head signaled stealth and menace. She knew and cooked for everyone at Segue, so…

Intruder.

Fear thinned her breath, but her heartbeat didn't jolt, thanks to the beta blockers she was taking for her high blood pressure. She kept her hands steady, gripping the wet handle of the blade in her right.

She forced herself to turn, the knife uplifted. Drops of rapidly cooling water slid down her arm to amp her spook-born goose bumps.

She glanced around the kitchen—stainless walk-in fridge, island stacked with clean dishes to put away, double-wide dishwasher open to her left. The corners and cubbies of the kitchen were dark, while the air smelled soapy and water fresh.

There was no one there.

Which, after so many years of working there, she knew that meant she had to look harder.

The Segue Institute was the preeminent research organization for all things paranormal and it was housed in a haunted, renovated turn-of-the-century hotel. The place was supposedly loaded with what the scientists there called Shadow, capital S, a scary word for magic. Dark magic.

What she'd learned from all their research, however, was to trust the skittish hairs on the back of her neck. And right now they were tingling with a message of imminent danger.

She reached back and tagged the panic button under the counter and primed herself for the wait. Steam rose from the sink to dampen the back of her T-shirt.

Everyone either had retired for the night or was downstairs on the research level in a supersecret meeting—not so secret if she knew about it. They might as well have had the meeting in the kitchen, because if she lived through this, she would know the details in bits and pieces by the end of tomorrow anyway. And if she died, she'd take the secrets with her.

She giggled a little hysterically, then went for an old-fashioned, "Who's there?"

He wasn't a ghost or a wraith. A ghost, like that mean, hollow-eyed girl who haunted Segue, could scare her but couldn't do much else. And a wraith would've killed her already and eaten her soul. The intruder wasn't beautiful like the angels who'd been in and out of Segue this last year. And the fae were trapped in Twilight.

Which left something new. Goody. She got to be today's ambassador to the paranormal.

"Just so you know," Marcie said to the kitchen, "I'm using you for a raise."

Most of the staff were required to do some defensive training; she was required to feed them. But she was proud of her fast and even chopping skills, had her tool of choice in hand—the only knife a chef needs really—and was prepared to use it, even if she had to flail into open air. She held her breath to listen for the slightest movement. Felt something cold … there.

She struck out as an unearthly light shimmered into sight on the other side of the island. A little girl in gold ringlets and a pinafore appeared out of nowhere, ultrareal yet otherworldly. Segue's ghost. Her eyes were hollow, and her expression was contorted with rage. Behind her face lurked another, that of a grown woman, bitter and violent. Darkness was etched around her as if she were punched out of time.

"This is my place!" the girl shrieked in the direction of the lasagna dishes on the island.

The ghost's anger blasted through the air like ripples on water, and for a moment, the intruder was revealed. A man, on the thin side. Average height. He'd recoiled at the ghost's appearance, then glanced at Marcie, and she frowned at his black eyes. Oh. You're one of those. He was clutching a black dagger, ready to kill. And he was now standing close enough to strike.

GK: Oooh, love it! So, what's next for you?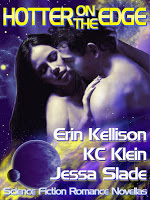 EK: Up next for me is Hotter On The Edge, a sci-fi romance anthology. For excerpts, buy links, and details, visit www.HotterOnTheEdge.com.


Shortcut to the Top



Caris Roane

(Originally posted: Tuesday, December 11, 2012 on Blah, Blah, Blah...)

As promised, we have a treat for you today, because awesome author Caris Roane is visiting to take her time in the Spotlight. She's also got a ton of goodies to give away, so it's like an early Christmas or right on time Hanukkah present, too! But before we roll into that, let's get anyone who doesn't know her up to speed on the magic that is my friend Caris.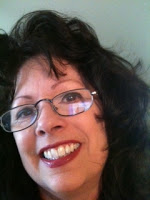 Caris Roane has published over fifty Regency romance novels and novellas under the pen name, Valerie King. In 2005, Romantic Times gave her a Career Achievement award in Regency Romance. Having had a long-time love affair with vampires, Caris tackled the paranormal genre and built a unique vampire world based on ascending dimensional earths. Her series is called Guardians of Ascension.

Her most recent self-published project, The Blood Rose Novella Series, launched in May of 2012 with the first title: Embrace the Dark.

Currently, Caris is working on a new vampire series set to launch in the Fall of 2013: WARRIORS IN CHAINS with the first novel, BORN IN CHAINS.

Caris lives in Phoenix, Arizona, with her two cats, Sebastien and Gizzy.

So, without further ado, Caris, welcome to the Blah, Blah, Blah Blog!

CR: Hi, everyone! I want to thank the BLAH, BLAH, BLAH BLOG for having me today as part of my WARM UP YOUR WINTER BLOG TOUR. On the tour, I'm including excerpts from GATES OF RAPTURE (12/24) and today is no exception! I also have goodies for you to win, details to follow!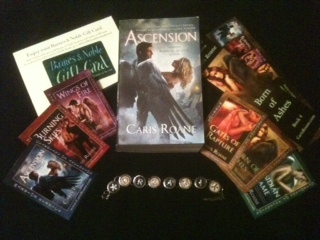 But first, Gini asked me a bunch of questions and since she's holding a gun to my head, a Glock without a safety – private joke – I must obey her!

GK: Yes, you must, you truly must! So, let's roll, babe. What prompted you to become a writer? Was it voices in your head, a burning desire to tell a story, or just too creative for your own bad self?

CR: Oh, definitely too creative for my own bad self, lol! Although 'bad' might be the right word. You only have to read my books to find out how bad I really am! As for what prompted me to become a writer, it's kind of cliché: I was standing in a book store many moons ago, staring at a bunch of romance novels, and I thought, 'I could do that'. So I did…sort of…just not right away. It took me 9 years to hit my stride. It's been a fabulous journey.

GK: What was the first book or piece that you wrote and why? Is it published, being shopped, on the shelf waiting for you to get back to it, or in a heap of ashes at the bottom of the fireplace?

CR: I started and completed my very first novel a long time ago, mostly to prove to myself that I could start with 'Once upon a time' and finish with 'The End'. I hold onto the fact that I was able to finish that major project especially when I hit a low spot in the course of a writing day, week, month, or even a year. I did it once. I can do it again. But that book remains as a personal testimony only to myself and is buried somewhere in my house, and no, I don't have a clue where it is, a scary fact all by itself.

GK: Give us a funny story about writing your latest release. It's okay if your funny story involves a nervous breakdown as the deadline loomed, btw. I like to relate to my guests.

CR: GATES OF RAPTURE (12-24) was an absolute roller coaster writing experience from start to finish – many highs, many painful lows. I wrote three different major drafts of this novel, which isn't exactly funny, but it had to happen because my pub house shifted direction mid-stream. Mucho angst followed. By the time I'd turned in the third draft and my editor approved it, I had no idea if I'd written a good novel, or something that readers would be throwing against the wall! One HUGE fear I had was focused on the review that would eventually come from Romantic Times Magazine, because those reviews matter. In the end, I hoped to at least get a 3 rating because I couldn't tell about this book, not even a little! When the review came in, I was stunned: a 4 ½ , and TOP PICK, no less! And I do mean I was stunned! So, you never know with a book. In the end, I'm just hoping that my fans enjoy GATES OF RAPTURE. It will be very interesting to see what the they have to say!

GK: Having been in those situations, and also gotten an RT Book Reviews Top Pick, I truly know what you mean -- it's a great feeling. And you totally deserve it, too! And I know your fans are gonna love it! So, in a related question, what's your most and least favorite things about being an author?

CR: There are three things that are my favorite, and yes I know it's not possible to have three favorite things, but I don't care. FIRST, I love the written word. Period. SECOND, I adore my writer friends, like you, Gini! I admire you tremendously, more than you know. THIRD, and maybe this is my fav-favorite, I love hearing from readers that my books have touched their lives. Okay, YOU choose among those three things! I dare you! As for least fav, that's easy: I don't like editing. The job has to be done and I embrace it, but I much prefer the creative process. If I could hire someone to take my first draft and edit it, believe me, I would!

GK: I love editing, but then again, I'm with DAW and they believe that less is NOT more. LOL But I agree with all your faves, and we are not control freaks here -- three faves is a-okay with the Alien Collective! (And btw, having someone you look up to say they look up to you is now on my fave things list. Just sayin'. :-D) Moving on from our Happy Mutual Admiration Society, what's one fact about you that someone who didn't know you well or hasn't read this blog wouldn't know? Make it juicy, my readers expect.

CR: When I was a tour guide at Disneyland, in those days when I was young and innocent, a photographer asked if I would like to pose for him with some off-the shoulder looks. I wasn't sure if I should do this, but being polite I said I would be happy to discuss this with him at his studio. Yeah, yeah, super naïve, but I was young! Anyway, when I arrived at his small, dark, work-space to talk things over, he showed me all these prints of completely nude women. I still remember standing by his desk and thinking, "Uh, say what?" I hightailed it out of there, but honestly, could I have been more naive! Sheesh!

GK: ROFL, i think far more of us have been that naive than we'd care to admit. But, onward! Let's have an excerpt, shall we?

CR: We shall! This is from the sixth book of my vampire series called, GATES OF RAPTURE (coming 12/24) with the hope that you might get to know my Guardians of Ascension, my most beloved winged vampire warriors. I know the covers have wings on them, but the books aren't about angels AT ALL…just vampires…with wings.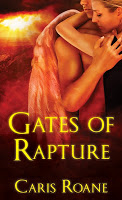 GATES OF RAPTURE is the sixth installment of Guardians of Ascension and features Warrior Leto, a famous, ancient Warrior of the Blood, six-six, long straight black hair, piercing blue eyes, and built to battle death vampires for centuries, not to mention drive the ladies crazy! So yummy! Romantic Times Magazine gave GATES OF RAPTURE a 4 ½ Star, TOP PICK review! I couldn't be happier! Here's today's excerpt taken from Chapter 15: Leto and Grace are in the middle of a fight for their lives and for the future of their world. In all the books of this series, I've tried to show the complete scope of human and vampire existence. In this brief excerpt, you'll see Grace expressing her spirituality and Leto, his commitment to her.




Destiny, I have found, is one of the strangest phenomena in any dimension, for it consistently works against common sense and every practical goal man can conceive.

Memoirs - Beatrice of Fourth


Chapter Fifteen


The next morning, Grace slipped on a simple white linen gown, something she'd made for herself while on Fourth Earth. Leto snored, a sound that pleased her more than she could say.

She left the room and crossed the narrow hallway to a second guest bedroom. The sun rose on the opposite side of the house, so as she dropped to her knees in front of the window, the very tops of the White Tank Mountains were lit in a rosy glow. Militia Warriors still patrolled, a constant, slow, vigilant movement back and forth.

She saw a fainter movement past the tree line that separated the desert-like mountains from the traditional villa landscaping. She extended her vision and saw that the same doe waited patiently for breakfast. She smiled, lowered her head, and closed her eyes. By long habit she ran through a litany of prayers most of which she had constructed throughout the centuries. They eased her heart and mind and seemed to settle something deep within her so that she could move forward with the day's enormous challenges.

Today she would practice once more with the women and at eight o'clock, the spectacle event would take place. Because she hadn't put any blocks in place, she felt Leto rise from his bed and when he found her, he didn't speak but sank to the carpet behind her, joining her in her meditation. She continued to pray until her soul felt at ease.

Her last thoughts were a basic giving of thanks for the simple gift of life.

When she opened her eyes and turned, she found Leto still on his knees behind her, one hand shading his face, his shoulders bowed. She saw in an instant the weight that he carried as a powerful ascender, as a warrior, as a trainer of Militia Warriors, as a gifted leader. She had often seen this same demeanor in Thorne.

Leto, she sent, thank you for joining me.

He lowered his hand and met her gaze. He pulled her back toward him and cradled her, his head bent over her shoulder and nuzzling her face. He smelled so beautiful, of the forest.

She shifted in his arms and put her hand on his face. "What is to become of us?"

He kissed her and rocked her. "I will love you, I will work hard for you, and I will do everything I can to bring the stars down for you to hold in your hands. And I will strive to make this world a finer, better place for you."

His vows, he was speaking his vows to her.

CR: I hope you enjoyed the excerpt! I've had an extraordinary time creating and writing this series! Let Guardians of Ascension be a new journey for you. GATES OF RAPTURE releases on December 24th.

To Learn More about Gates of Rapture and to read the opening chapter: CLICK HERE!!!

To Pre-Order GATES OF RAPTURE Amazon Barnes & Noble iTunes


Shortcut to the Top



Diane Dooley

(Originally posted: Monday, May 9th, 2011 on Blah, Blah, Blah...)

Today we have one of the most fun folks in the galaxy with us, Agent Z from the Galaxy Express! She's also a newly minted author writing under the code name of Diane Dooley. Because the Galactic Police are after her, and we want you able to find her books, we'll refer to her by her code name from now on.

Diane, welcome to the Blah, Blah, Blah Blog, where the men are all handsome, the women are all gorgeous, and the yap runs wild and free.

I've come to the right place!

You have indeed! Before we get into the interview, I'd like to catch those who might not know up on all that is Diane. She was born in the Channel Islands and grew up in Scotland. After many years of bumming around she finally settled down in Upstate New York, where the summers are short and the winters just might just kill you dead. She lives with her best friend/husband, who can't fix a damn thing, and two obstreperous boy children in a falling-down farmhouse in the sticks. She is very happy.

When she is not writing science fiction, romance or horror - sometimes all in the same story - she can be found chasing after her children with a big stick, geeking out with her husband, working a full-time job, indulging her addiction to Youtube or, most likely, with her nose deep in a book.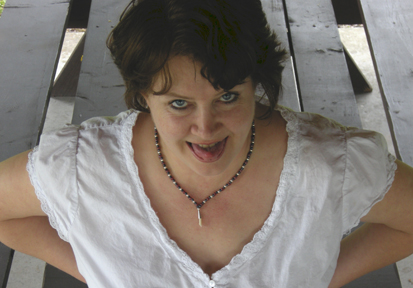 Isn't she cool? So, without any more delay, on to the burning questions!

Q.What prompted you to become a writer? Was it voices in your head, a burning desire to tell a story, or just too creative for your own bad self?

A. Heck, no. I'm in it for the money. Really. I was a stay-at-home mom with a workaholic husband, the above-mentioned falling-down farmhouse and two children with an unrelenting (and perfectly understandable) desire for expensive Star Wars toys. I decided to get rich the easy way by banging out novels. Just because I've spent more on printer paper than I've made from my writing is besides the point.

Q. Money? There's money in this? Wait a minute…oh. The agent says it comes 'in time'. I assume that means it's heading to us from a galaxy far, far away. But, onward. Writing styles -- outline or wing it, music (and what kind) or silence, chaos or serenity, only novels or other lengths as well?

A. Usually I've got something brilliant worked out in my head before I even start writing. It turns into something mediocre as I type it all out. Then I whip myself into a frenzy of editing and polishing until I've got something halfway decent. Then I send it off to a prospective victim/publisher and wallow in margarita-fuelled misery until I hear back.

Silence? What is that? If I waited for silence in my busy household I'd never get a thing written. I don't listen to music while I write because music is too important and takes up all of my attention (see above-mentioned Youtube addiction.) I DO listen to music to get me in the mood for certain types of scenes. Here ( http://dianedooley.wordpress.com/2011/02/19/sexy-songs-for-writing-sex-scenes/), for instance, are some of the songs that help me get in the mood for writing sex scenes.

I write in all lengths, from flash fiction to novels, and in a variety of genres. I wish I could say that I follow my muse, but I actually think it's more like attention-deficit disorder.

Q.Soul sister! I knew I loved you. Your first Science Fiction Romance novella, Blue Galaxy, was just released…TODAY. So, in honor of your big release, give us the ol' author overview.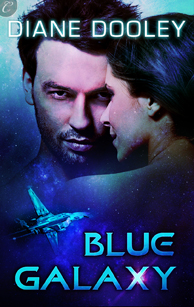 Falling in love is easy; staying alive long enough to enjoy it just might be impossible.

Javan Rhodes, the hard-drinking, disreputable captain of space freighter The Kypris, took a mission to save himself from hitting the bottom of the food chain. Transporting Sola, a beautiful young aristocrat, from Earth to an unknown destination on the outer rim of the colonies is lucrative, but also highly illegal.

As tough as it is to evade both the law and the lawless, the hardest part of the job is not falling in love with his irresistible cargo. Just as he decides that he will never be able to hand her over to the warlord she must marry, he discovers that Sola has been playing a very dangerous game—one that could not only cost them their lives, but could also affect the balance of power in an increasingly dangerous universe.



Basically, it's sex and violence. In space. With Greeks.

Q. You speak my language. Next up, can we have an excerpt?

Javan shuffled in the dry dust, covering a smattering of blood he'd missed.

The group finally navigated around the bots and cargo pallets and stopped in front of him. He noted the ultraviolet of the protective devices beneath their pale blue cloaks, though the light was barely visible under the harsh Greek sun. He offered his hand to the nearest Blue. The group regarded his hand but did not turn off their protection—except one. A slight figure stepped to the front and placed a hand in his.

"Captain Rhodes?" she said in a low voice, giving him a firm handshake.

He nodded, distracted by her soft golden skin.

"My name is Sola. I am your cargo." She pulled the blue hood away from her face, revealing sparkling brown eyes, and stared with such fierce intensity that it shook him.

She smiled.

And Captain Javan Rhodes, gazing on what had to be the most exquisite face in the entire universe, felt his heart twist as he fell instantly, irrevocably and most definitely in love.

Q. Way cool! Sounds hot already. So, what's it like, going from running from the Galactic Police to becoming a published author? It is like joining the Establishment or are you still keepin' it gangsta?

A. Myself and Agent Z are currently embroiled in a fight to the death over who is in charge. Every now and then she finds she has a strange urge to can up homemade apple sauce and bake artisan bread. Every now and then I find myself wanting to annihilate every tentacle monster in the galaxy. We're trying to work out a custody agreement. Liberal applications of gargleblasters keep us both happy.

Q. What's next for you? Sequels, prequels, something different, heading to Disneyland?

A. Went to Disney, had a short but passionate affair with Goofy, he was marvelous. Next up is the second episode of the Blue Galaxy saga, followed by two contemporary romance novels. I've got a couple of horror short stories coming out over the summer. After that I'll probably look up Goofy again. He was THAT good.

Q. Wow, I always knew Donald Duck had it goin' on, but Goofy was a well kept secret. Until now. Goofy, who knew? Other than you, I mean. Other than your torrid affair with Goofy, what's one fact about you that someone who didn't know you well or hasn't read this blog wouldn't know? Make it juicy -- my readers expect it.

A.Okay, Gini, you evil wench. This is you getting me back for all those awful questions Agent Z asked you, isn't it? Okay, here goes: There was once a man I had fallen madly in love with. He seemed to like me too, but spent an awful lot of time and energy running away and avoiding me (I can't imagine why!) One night in a bar I slapped him hard in the face and demanded he take me to bed. And every year on our anniversary, that we fondly refer to as Slap Day, I give him a sharp one to the jaw and we fall in love all over again. The End.

ROFL! Awesome! Thanks so much for being here today. You can find Diane any number of ways, and here are most of them:

Blog: http://dianedooley.wordpress.com/
Group Blog: http://contactinfinitefutures.wordpress.com/
Facebook: http://www.facebook.com/pages/Diane-Dooley/146280878746604?sk=wall
Goodreads: http://www.goodreads.com/author/show/4737760.Diane_Dooley


Shortcut to the Top



Heather Massey

(Originally posted: Tuesday, March 23, 2011 on Blah, Blah, Blah...)

Today we have the Captain of the Galaxy Express and newly minted author Heather Massey with us. Heather, welcome to the Blah, Blah, Blah Blog, where the men are all handsome, the women are all gorgeous, and the yap runs wild and free.

Yes, I would love some bibimbap, thank you.

Heather? You're on Earth. And with me. Sorry, you can have a Coca-Cola product. So, Coke, Diet Coke, Cherry Coke, or Captain Morgan Lime Bite and Coke? (Yes, these are your only choices, sorry.)

Can I have a Coke…and a smile? That's the way it should be. In fact, I'd like to see the whole world smiling with me. :)

Surely! Before we teach the world to sing, or get into the interview, I'd like to catch those who might not know up on all that is Heather. Well, probably not ALL. I mean ALL would include things like her address, phone number, and social security number. Which, despite my best efforts, she hasn't shared with me. So, let's just go with all about her writing and blogging self and let it go at that.

Heather Massey is a lifelong fan of science fiction romance. She searches for science fiction romance adventures aboard her blog, The Galaxy Express. And for European readers, she covers the subgenre for Germany's premier romance magazine, LoveLetter. Heather's debut erotic sci-fi romance novel, Once Upon a Time in Space (Red Sage Publishing), features the last living descendant of Christopher Columbus on a desperate quest to find a new world. Standing in his way is Raquel, the deadliest space pirate in the galaxy.

For more information, visit her Web site at www.heathermassey.com.

Heather also likes Ennio Morricone soundtracks. A lot.

Isn't she cool? So, without any more delay, on to the burning questions!

Q. What prompted you to become a writer? Was it voices in your head, a burning desire to tell a story, or just too creative for your own bad self?

A. It was the voices screaming in the heads of others—specifically people named "Ralph." Said voices also informed me that there just wasn't a future in iguana wrangling. Subsequently, I set my sights on fleshing out a story idea I'd been carrying around for years and years. Since my background was in another field entirely, I was hoping someone else might pen an adventure about a futuristic Christopher Columbus in space so I could read it, but strangely, no one could read my mind. I know. Scandalous.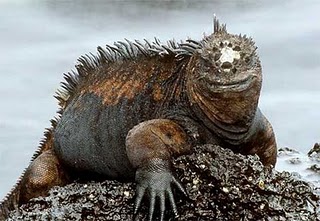 When I realized I'd either have to write the story myself or take it to my grave, I decided to go for it. What did I have to lose? My collection of 174 live mutant iguanas? (Well, there is that, um….)

Q. Poor Ralph. And the iguanas. Huh. You know, I kinda like the title, "Ralph and the Iguanas." It has a certain ring to it. But mutant iguanas is a whole 'nother story. But I digress… So, writing styles -- outline or wing it, music (and what kind) or silence, chaos or serenity, only novels or other lengths as well?

A. I outline because of the structure it provides. I write in silence. I don't have a Fortress of Solitude or anything, but I concentrate better if it's quiet. Regarding length, the great thing about the digital market is that authors have the freedom to experiment with stories of varying length. That said, I might have a few experiments up my sleeves.

No wonder you're twitching while sitting here. Would you like me to turn the music down?

Actually, I was hoping you could turn it up to eleven. I love me some Electric Light Orchestra when I'm not writing (Jeff Lynne, you're money, baby!).

Shocking no one, I have the complete ELO oeuvre. Your musical wish is our command. Now, while the tunes are going, your first book, Once Upon a Time in Space, just released. Give us the ol' author overview.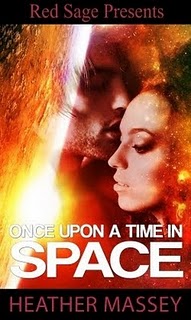 In the sea of stars, an epic love story is about to begin...

Earth is dying. Nick Venture, the last living descendant of Christopher Columbus, embarks on a dangerous mission to find a new planet and save humanity. This places him on a collision course with Raquel Donovan, the deadliest space pirate in the galaxy.

Raquel lives for one purpose: revenge against a horrible demon from her past. When an attempt to hijack Nick's starship backfires, Raquel becomes his protector in order to avoid capture by the tyrannical Space Defense Corps.

Nick and Raquel are irresistibly drawn to one another despite the forbidden nature of their attraction. But the conflicted pirate's deepest secret could tear the couple apart even as humanity's time runs out….

Sex. Revenge. Pirates. Just like ye olde Prego, it's in there. I couldn't resist spinning a story that features an intrepid explorer clashing with a ruthless space pirate heroine against a post-apocalyptic backdrop.

Q. Sounds juicy! Next up, can we have an excerpt?

A. Sure thing! Here's a scene from when Nick first meets Raquel. She's about to raid his ship:

Stunned, all he could do was roll over, bringing the shuttle back into view. At first, Nick saw only a pair of clingy, knee-high boots as the Siren advanced with supple movements down the shuttle ramp. Then his gaze shifted to a brown gun belt, slung about her hips at a jaunty angle. But the distraction cost him. When the unknown assailant kicked him in the ribs, air shot like a torpedo from his lungs. What the fuck?

Nick barely had a chance to recover his breath when the man turned him roughly over and smacked him across the face. He grimaced against the pain of stung lips, and then a spurt of blood coated his tongue. Blinking, he tried to plan a move, any move, in self-defense. What kind of coward attacked from behind like that? Pirate cowards, apparently. When the thug forced him unceremoniously to his feet, he held up his hands in a conciliatory gesture. "Listen! I'm Nick Venture, and I'm in command of these ships. Let's discuss this situation like rational people."

Hatchet Face drew back his hand for another blow. Raising an arm to block the next attack, Nick added, "I won't resist! Just give me a minute."

By now, the Siren had reached the deck. Nick gazed at her, almost forgetting the mortal danger that hovered mere inches from his body. With a shipsuit that clung to her body in all the right ways, she looked even more stunning in person. The slinky motion of her stride seemed to electrify the very air surrounding her. Flesh tingled with anticipation, causing the hairs on the back of his neck to rise. This woman didn't just invite attention, she commanded it. His assailant glanced at her, too, although he continued to stand poised for another hit. Then other pirates started circling, some with drawn weapons. The noose tightened, attracted to him as if he were a magnet. Silence gripped the bay as the face-off intensified.

Q. Nice way to leave us hanging! I know, I know, to learn the rest, we need to buy the book. Or win it. But we'll get to that later. What's it like, running a successful blog that deals with Science Fiction Romance exclusively, and now being published in SFR? It is like winning an Oscar for both screenwriting and acting or more like doubling the insanity?

A. It's a total blast. Dare I say it…none of it feels like work. Being a stay-at-home mom allows me the time to indulge in my favorite subgenre. As far as the writing, digital publishing offers a similar flexibility. A java high helps with some of the gritty details, though!

I've met so many terrific readers, authors, bloggers, and industry folk during my journey. I plan on entertaining readers with sci-fi romance in one fashion or another for a long time to come.

Q. What's next for you? Sequels, prequels, something different, heading to Disneyland?

A. More blogging about science fiction romance, of course! I've got a few jazzy features in development and I look forward to reading as many stories as I can cram into a week.

In addition to Once Upon a Time in Space, readers can download Heroes Are Forever, a free sci-fi romance short from my Web site (multiple formats available).

As for future stories, I've got a Muse who's after me with a vengeance, so there are a few things in the proverbial pipeline. Also, I'm starting an iguana band and going on tour. Hello Cleveland!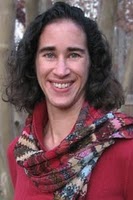 Q. Good to hear! And, can I sing lead? Or play the tambourine? (Yeah, those are my only musical options.) Now, what's one fact about you that someone who didn't know you well or hasn't read this blog wouldn't know? Make it juicy -- my readers expect.

A. Nacho Cerdà's film short AFTERMATH is in my DVD collection. I've seen it twice. Google it if you dare.

Awesome! I, um, don't dare. But, thanks so much for being here today.

Now, Heather's got a special treat for us. She's giving away not one but TWO copies of her novel, Once Upon a Time in Space, to two lucky members of the Alien Collective. Just answer this question and leave your email address in order to be entered to win: If you were a space pirate, what snazzy moniker would you choose to show all you were a force to be reckoned with?


Shortcut to the Top



Weston Ochse & Yvonne Navarro

(Originally posted: Tuesday, February 8, 2011 on Blah, Blah, Blah...)

I met the amazing, talented, witty and adorable Weston Ochse at CopperCon 2010. We were on several panels together and because I was so worried about how to pronounce his last name (it's pronounced "Oaks", btw), that I messed up his first name and introduced him as Winston. I think it's because I'm a huge Winston Churchill fan and there are several qualities Wes shares with the late, great leader. So, Winston it was, became, and is. His wife, the Lovely Miss Yvonne (as in awesome author Yvonne Navarro), agreed that it was fitting, so it's his nickname for life now for me and several of Team Gini.

Having read my Winston's excellent zombie novel, "Empire of Salt", and loving as I do to pimp the authors I adore, I finagled an interview. But before we get to it, here are some key facts about Winston you need to know:

Weston is the author of five novels and a slew of short stories and non-fiction articles that have appeared in comic books, professional writing guides, magazines and anthologies. He won the Bram Stoker award for Superior Achievement in First Novel in 2005 and was nominated for the Pushcart Prize for Short Fiction in 2003. He also won the Buffalo Screams International Film Festival Award for Original Screenplay in 2010. He lives in Southern Arizona with his wife, Yvonne Navarro, and Great Danes, Pester Ghost Palm Eater, Goblin Monster Dog and Ghoulie Mad Dog Sonar Brain. For entertainment he races tarantula wasps, wrestles rattlesnakes, watches Border Patrol Death Race 2000 and bakes in the noonday sun.



Sufficiently impressed? Yeah, me too. No worries, though. Winston's a hoot and a half. And now, without further ado…Winston, my good man, great of you to join us today!

Q: What prompted you to become a writer? Was it voices in your head, a burning desire to tell a story, or just too creative for your own bad self?

A: I always wanted to be a writer. Since I first began to read I wanted to write. I was one of those people who was able to create universes, populate them with interesting characters, and put them in dire situations; dire enough so that even at a young age I was in fear for their very lives. But then as I grew older, I forgot that desire for awhile. I forgot that I wanted to create. It wasn't until I turned 30 years old that I was able to look back and remember that I'd never accomplished what once I had most desired to do.

Q: What was the first book or piece that you wrote and why? Is it published, being shopped, on the shelf waiting for you to get back to it, or in a heap of ashes at the bottom of the fireplace?

A: In third grade I wrote a story for the school newspaper called 'What Became of Charlie.' It was a morality tale. It was graphic. It was a story of a young boy named Charlie who decided to take a different way to school, against his mother's wishes, and was eaten by a bear. This was my first step into the publishing industry. The story was published in the newspaper and when parents read my story in the newspaper, the newspaper was recalled. Students were ordered to return all copies of the newspaper to the school because my story was too graphic for their little minds. Never mind that it was my mind the came up with it and I was their same age. But there you go. The very first thing I ever wrote was banned. Definitely a harbinger of what was to come.

Q: I love it! What was the first piece of yours published? I mean other than your first foray into the world of censorship. When? What did you do when you found out it was going to be published?

A: After the story Charlie, which would've been published around 1972-73, it would be 25 more years before I had a story published. I began writing seriously and in 1997 I decided that the measure of my success would be publication in a paying print market. So I wrote and submitted. When I receive a rejection, I would edit and submit it elsewhere. I had a set of spreadsheets that would make a Wall Street financier jealous, but which was necessary for me to keep track of all the markets, the different metrics of the markets, where my stories were going, where they had been, and where they were. Eventually my work evolved into the sort of quality for which people were willing to pay me real money. My first story was published in MindMares, a print magazine out of Kansas City and I was paid two cents a word. It was pretty awesome. Because I had so many stories making the rounds, I had 18 more sales within the next four months. When I hit, I hit.

Q: I'm envious! What stories interest you the most and compel you to write?

A: I read about characters. Characters are foremost in anything I write. Like many people I collect characters. When I see one on the street I file it. When I see one on television, I file it. When an object inspires the possibility of a character, I file it. Living along the Mexican-American border is an amazing setting within which I can insert virtually any character. Many times I don't know what this character will do. But with the setting, and the possibility of conflict, and the vicarious possibilities within the character, the end result is most often more than I expect.

Q: What's your most and least favorite things about being an author?

A: The most favorite thing when I write is when I reach that moment where disparate plot lines magically come together without me knowing it. It shows my brain knows what's going on deep inside a lot more that I know on the surface. It gives me a confidence that even though it seems like I don't know what I'm doing. I must know what I'm doing because it will come together in the end. My least favorite thing about being an author is the fact that I don't have enough time to write. I want more time. I want more self-discipline.

Q: Writing styles -- outline or wing it, music (and what kind) or silence, chaos or serenity, novels or other lengths as well?

A: With regards to writing styles, when writing a short story I wing it. When writing a novel I wing the first three chapters, then outline. I have to outline the novel. I have too many things going on and too many characters to keep track of. I most often write with music blasting. I've been known to write with music playing, the television blasting, and a video on one of my monitors playing, yet it doesn't bother me. I've always needed sensory input. The more the better. I'm not one of those people who needs a perfectly arranged desk or the complete and utter silence of the Byzantine monastery.

Q: I knew we had a lot in common! Other than the outlining part. So, why zombies? Why the Inland Empire (so inaptly named) as a setting? Why a British press? Why zombies?

A: That's easy. I was at the Book Expo of America a few years ago in Los Angeles and I met the editor of Abaddon Books. We'd corresponded previously when I had pitched him for some other work. Although my previous pitch didn't make it, he did like my ideas and my writing. So when we met he mentioned that he was looking for zombie novels and gave me the impression that if I was to pitch him, I had a more than average chance of succeeding. I've never before thought I would ever write a zombie novel, but given the opportunity of mass-market publication in at least three continents I'd have been a fool not to try. I'd wanted to set something in the Salton Sea for a long time and this seemed like the perfect opportunity. So with the Salton Sea setting and a menagerie of colorful characters I pitched the zombie novel, he liked it, he published it, and he paid me in English pounds. Now Empire of Salt is available on three continents, sold out in the US in record time, and is pretty much a shit-hot awesome example of a zombie novel.

Q: Can we have an excerpt?

A: Sure you can.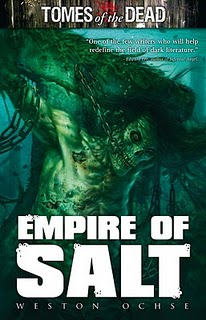 The dog was diabolical. Abigail Ogletree had finally managed to pull in her favorite soap opera from a Mexican television station – it was an American soap opera, rebroadcast with Spanish voice-overs and English subtitles – and the dog wanted to steal her attention. God forbid she sit for a few quiet hours and watch the grainy lives of happier people with more interesting lives played out in her all-but-useless television. Trudie, her sassy miniature poodle, just wasn't having it.

Abigail muted the television and jerked her head towards the kitchen. "Shush!"

The dog stopped barking and Abigail returned her attention to the television. And for the ten thousandth time she cursed her husband, Roger, for dying and leaving her in this backwater cesspool. Her television was ten years past its prime and the cable companies had long ago moved on. She was relegated to using an old antenna that kept shifting in the wind – always, it seemed, at the most inopportune times.

She could just make out a man and a woman through the ever-present snow on the television. The man was Charles Hargrove and had just recovered from a traffic accident. He had amnesia; Abigail counted that it was the third time he'd lost his memory in eleven years. The girl was Genevieve. She was his best friend's daughter, but was pretending to have been a long time mistress, acting on a crush she'd had on Charles since she was a child.

Abigail couldn't wait to see what would happen when Charles finally remembered who he was. Would he burn so many bridges he'd never be able to return to a normal life? Would he consummate his relationship with Genevieve, thus destroying his lifelong friendship with his best friend? Would she succeed in trying to convince him that he'd asked her to marry him, and elope to Cabo San Lucas?

Abigail had long ago given up trying to guess what would happen on the show. The story writers were too good and always kept her guessing. She shivered in anticipation, leaning forward to make out what was happening.

Charles and Genevieve were close enough to be kissing, but the distortion of the television made it questionable. She had to pay careful attention to try and discern what they were actually doing. Plus, in addition to the fact that the actors and actresses were always in a blizzard of electric snow, the soap opera had Spanish voice-overs, with English closed captioning amidst the snow which always seemed thickest at the bottom of the screen.

Trudie started to growl, deep throated and low.

Suddenly, on the television, a door opened and a man entered the picture.

Abigail covered her mouth and inhaled deeply. It was Genevieve's father.

Charles held the girl tighter, not recognizing the man.

Trudie's growl turned into a bark.

Abigail turned her head towards the sound for a moment, but the snowy soap stars drew her attention back to the television. But whatever had happened, she'd missed. She didn't speak Spanish, and the text was already past. Now all she saw was a jumble of three figures wrestling in a winter storm.

Damn that dog!

She threw her remote control down on the couch hard enough that it bounced. She pushed herself to a standing position using the arm rest and slid her feet into her slippers.

"What is it, Trudie?" She shook her head and headed towards the barking dog. "Why is it that whenever I sit down to enjoy myself and leave you alone, you find it necessary to –"

The white and gray poodle barked louder now that she was in the kitchen. A man's hand gripped her hind leg. He'd tried to crawl through the doggy door, but become wedged. At first fear leaped into her chest, but then she remembered the Klosterman Kid, who'd stayed the same four year old he was thirty years ago. More than a little slow, his grandparents kept him out back with a catcher's mask on his face so he wouldn't chew anything and boxing gloves on his hands so he couldn't grab anything. It wouldn't be the first time he got loose. But it would be the first time he tried to break into her house... or for that matter, try and get her dog.

Abigail grabbed the broom from where it leaned against the wall between the doorjamb and the refrigerator.

"Let her go you –" She refused to use the word "retard," and instead shouted "– bastard!" She swung the broom, hitting the man in the back of his head.

The dog barked and snarled at the hand that was around her leg. She reached out to bite, but couldn't bring herself to actually do it.

Abigail switched her grip and began to poke the Klosterman Kid on the side of the neck.

"Get out! Get out! Get out!" she screamed over and over, each time shoving the rounded wooden end into tender flesh.

Trudie broke loose and dodged behind Abigail, and took up barking even louder.

The man's hands moved to follow, and as it did, Abigail caught a glimpse of the face. It was not the Klosterman Kid. This man, whoever he was, had a much older face, skin wrinkled and gray and green.

A hand grabbed at her foot. She stepped back, but lost her slipper in the process. He pulled it to his mouth and began to chew savagely at the furry purple and orange fabric.

Abigail broke the broom over the man's head.

He began to hyperventilate, wheezing coming from somewhere deep in his chest.

She reached atop the refrigerator and grabbed a heavy lead crystal bowl that she'd once used for fresh fruit, when there'd been fresh fruit to be had. She brought it down on the man's head as hard as her brittle old fingers could propel it.

The head made a hollow squishing sound, and blood oozed out of the left ear as the bowl rolled to a stop in front of the stove, none the worse for wear. The dog suddenly stopped barking.

Abigail took a step back.

And was glad she did, for the man lunged forward, hands encircling the spot where her legs had just been. She let out a little scream, terror blossoming inside her.

The creature on the floor, for it was no longer human to her, nor could it be human, gazed at her through unholy yellow eyes. Saliva that reminded her of the frothy green pollution lining the edge of the sea fell from its lips and down its chin.

She lifted the broken broom handle. Its sharp, broken end could easily pierce those eyes. Then it began wheezing louder, the sound coming faster and faster, until the sound filled the trailer. It lunged forward, pulling itself farther into the house.

Abigail lost all sense of courage. She turned and ran to the back of the trailer. Thank god Trudie was close behind because if she hadn't come, Abigail was doubtful she'd have gone back for her precious poodle.

She hit the door to her bedroom, running as fast as her legs could carry her. It slammed open, then shut. It was on a spring hinge and more substantial than the rest of the trailer. Her Roger – before he'd died, God rest his soul – had spent a small fortune disaster-proofing the bedroom. Not in case of hurricane, tornado, earthquake, or anything like that; Roger's greatest fear had been illegal aliens surging across the Mexican Border. So he'd built a room lined with metal, a door made of steel, and put enough weapons inside of it to obliterate Kansas.

Just as Abigail snapped the lock into place she heard a wrenching sound followed by an explosion of wood. Then the wheezing came toward the bedroom like a muffled freight train, accompanied by the pounding of the creature's feet.

It hit the door with a clang and began to beat upon it.

Abigail found a 45 caliber pistol and crawled onto the bed. She clawed for her husband's pillow which she'd kept in the bed ever since he'd passed and hugged it to her chest. Trudie followed and curled up in her lap. She eyed the door, her tail hugging her belly, too afraid to bark. Abigail was afraid to move.

And she'd stay that way a very long time.

Q: Can we even find "Empire of Salt" in the States any more? The Alien Collective is a worldwide membership, so where in the world can we find your book?

A: Sadly there are not enough copies of Empire of Salt to populate every bookshelf in every store but they do have some copies in the distribution centers. What Abaddon decided to do in lieu of doing a second run at this time is to physically ship books from England and Europe to the United States. So there are books that can be had at bookstores but you might have to special order them. They are absolutely available online. I know that Mysterious Galaxy (San Diego), the Poisoned Pen (Phoenix) and Book Soup (Los Angeles) are three physical bookstores that have copies in stock, which can be bought from their stores either in person or online. As far as the alien collector's worldwide membership, even as far as the Yukon they should be able to find a copy of the store. I hear there was a brisk run in the Amazon Rain Forests back in November.

Q: As you made clear to me and Nicole (who is still not my daughter), it's "clandestine ops" when you do it, not "covert ops". Why? What can you tell us about that which won't require you to kill us after?

A: The difference between the definitions of clandestine and covert are this: clandestine refers to intelligence, and covert refers to operations. The former deals with speaking and listening, the latter deals with shooting and killing. An important difference, I think.

Q: What's one fact about you that someone who didn't know you well or hasn't read this blog wouldn't know? Make it juicy -- my readers expect.

A: I have webbed toes. They make me swim faster. I'm banned from Olympic competition because my mutation gives me an added advantage. I think it's sad that someone who's 6 foot 5 doesn't get banned but a regular sized guy like me who happens to have little extra skin between his toes gets banned. I call that discrimination and I wish there was some international organization of webbed-toe people who could act on my behalf.

Q: OMG! You're a mutant! You're one of the X-Men! *does the Happy Dance* I knew it! I knew it! *cough* Okay…back to the seriousness of the interviewer's microphone. What's coming up next for you? What titles of yours should we be eagerly hunting down, preordering, or searching the bookstores for?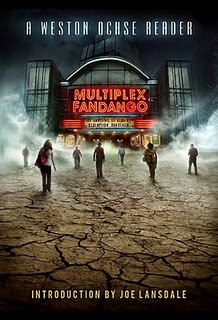 A: In late March or mid April I have a new book coming out called Multiplex Fandango. It is my first ever solo short story collection. It has my best work from the last 12 years, in addition to 30,000 words of never before seen original work. The book is introduced by Joe Lansdale, who is just about one of the most awesome short story writers of all-time. I dedicate the collection to him and Ray Bradbury. The cover art was created by Vincent Chong, a three-time British Fantasy Award-winning artist who creates works of art that look less like paintings and more like pictures. Dark Regions Press is publishing the collection and has so far done a wonderful job. This is something I've been waiting to do for over a decade. There's something special about short story collections. You can come back to them, you can return to them without losing anything. Unlike a novel, short story collections give you the opportunity to experience an author's offerings in short bursts. The good authors make the short bursts as monumental and as exceptional as a novel. I think I've managed to do this.

Sounds great, cannot wait to get my paws on a copy!


Now, y'all may be more familiar with Winston's better half, the Lovely Miss Yvonne, aka Yvonne Navarro. Not only is she an awesome author, but she's also a fun, funny, truly nice person. And she and Winston rescue Great Danes in distress, so you know the Canine Death Squad think they're Da Bomb and think the Lovely Miss Yvonne is a saint. She's graciously agreed to take time out from her writing, book touring, and doggy momming to join us as well, but first, let's catch up the few who don't know about her:

Yvonne Navarro lives in southern Arizona, where by day she works on historic Fort Huachuca and by night she chops her time into little pieces, dividing it among writing, art, college, dogs, birds and family (not necessarily in that order). She's written nine solo novels about topics ranging from vampires (AfterAge) to the end of the world (Final Impact and Red Shadows). She's also the author of a number of film tie-ins, including the novelization of Ultraviolet, Elektra, Hellboy, and seven novels five of them originals in the Buffy the Vampire Slayer universe. Her work has won the HWA's Bram Stoker plus a number of other writing awards. Her latest novel is Highborn (October 2010), the first book in the Dark Redemption Series. The second, Concrete Savior, is scheduled for June 2011. She's married to author Weston Ochse and has a menagerie of animals that include three rescue Great Danes and two attention-greedy parakeets.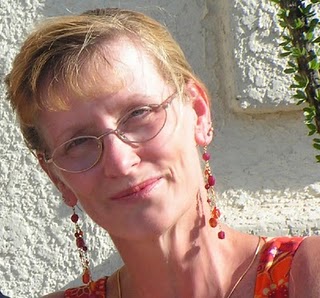 Awesome, isn't it? Yeah, there's a reason they're called a "power couple" in writing circles. So, without further ado, Yvonne, welcome to the Blah, Blah, Blah Blog!

Q: What prompted you to become a writer? Was it voices in your head, a burning desire to tell a story, or just too creative for your own bad self?

A: Let's just be honest about it: I've always had voices in my head. If any writer tells you they don't, they're lying. They hear characters-- the ones that were, the ones that are, and the ones that will be-- all the time. Little snippets of scenes, big chunks of action; something's always going on in there. I watch what's going on in the scenes taking place in my head and I describe them. (This is especially fun when I'm thinking about a novel-in-process while I'm driving.) When there's a big, blank nothing, you know you're in trouble.

I blame it all on my mother. I always thought I'd be an artist when I grew up (I still think that), but my Mom and I were always voracious readers. In the early nineties, I loaned her my favorite book by Robert McCammon, They Thirst. After she was finished with it, she told me, "You could do this." I thought she was full of... well, you know. But the seed had been planted.

Q: Awesome, and yeah, I'm with you. The Voices are there, why deny it? So, what was the first book or piece that you wrote and why? Is it published, being shopped, on the shelf waiting for you to get back to it, or in a heap of ashes at the bottom of the fireplace?

A: If I think back, my true first piece was a front-page newspaper layout I wrote and illustrated when I was about five years old. The main headline read "Dr. Suess Dies in Fire!" I remember my Mom suggesting I come up with something a little more on the positive side but I didn't want to. Even back then, my future was set.

There are various stories still sitting around. The first "grown-up" story I wrote was finished on April 28, 1983 (yes, I am so anal-retentive I actually know the date). It was a ridiculous thing called "For Decoration Only," and I hope to God I've destroyed every copy of it. I wrote six more stories (and because I wouldn't give up, eventually sold three of those) before I wrote anything of length, which was a novella that I naively thought was a novel. That one is still sitting in the closet. I'm going to go back and rewrite it someday. No, really.

Q: Yeah, I have those, too. One day, right? So, what was the first piece of yours published? When? What did you do when you found out it was going to be published?

A: It was a short-short called "Surprise Fall," picked up by The Horror Show magazine. Dave Silva, the editor, actually sent me a check for $1.50. This was only two and a half months after I'd started my writing "career" and I was pretty psyched. Of course, it was five years to the month before I sold another story. I guess what they say about babies born under the Taurus sign being stubborn is more true than people realize.

Q: Hey, a buck-fifty is a buck-fifty! What stories interest you the most and compel you to write?

A: Like Stephen King says (paraphrased), I like the stories where you put the character "in the cooker" and see what happens. Blood and gore mean nothing if don't feel something for the person who's enduring it. And all my novels have a dose of romance because if the characters don't care about one another, why should you?

Q: What's your most and least favorite things about being an author?

A: First most favorite thing: Having the story just flow out of me so fast that my fingers can't keep up with the voices in my head... and I type 114 words a minute! Second most favorite thing: Having everything annoying done and out of the way so I can write.

Least favorite thing: That people don't consider writing work. Therefore they think you should give your writing away for free (i.e., contributor's copies). I'll be happy to do this when I can send a contributor's copy to my mortgage company instead of a house payment. Second least favorite thing is that because people still don't think you're working, so that when you do manage to scrounge up some writing time, there's a general belief that you can be interrupted at any time with phone calls, to "go shopping with me," etc.

Q: Writing styles -- outline or wing it, music (and what kind) or silence, chaos or serenity, only novels or other lengths as well?

A: Definitely outline. After once getting stuck 80% of the way through a 190,000 word novel (Final Impact) and not knowing what the heck to do next, Wes is lucky I don't outline how to do the laundry and walk the dogs. I generally prefer quiet, although I can listen to instrumental music. If the songs have words, I want to sing along. This is a no-no as it generally results in cracked windows and broken mirrors. And I am precisely one of those people Wes is making fun of-- I like my desk to be neat and orderly.

Q: LOL, I should have asked how you two manage not to kill each other when you're both writing, but we'll save that for another time. Your latest release, "Highborn", is the first in The Dark Redemption Series. "Highborn" (which is a totally cool book, I have to mention) deals with Brynna, a fallen angel, and what she has to go through for a hope of redemption. First off, what's it all about?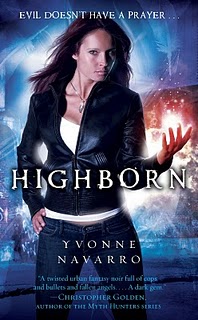 A: Artist Wayne Barlowe painted a picture of a angel-demon in Hell contemplating a white feather, and that was literally the inspiration for the novel. "Highborn" is what happens when a demon like that-- a fallen angel-- decides that she's going to do whatever it takes to try to regain her true angel status. That means escaping from Hell and seeking forgiveness on Earth among the humans. But Hell doesn't relinquish its denizens easily, and the road to redemption isn't paved with daisies. For eons Brynna, as the demon Astarte, has tormented and despised mankind. She's going to have to dig deeper into herself than she ever imagined if she has any hope of doing the opposite and ultimately saving herself.

(Want more? Hit Yvonne's website and check out the excerpt of "Highborn" that's up -- careful, though, 'cause you're gonna get hooked! http://www.yvonnenavarro.com/)

Q: Awesome! Now, I know the next book in the series, "Concrete Savior", comes out in June. What's the scoop on that?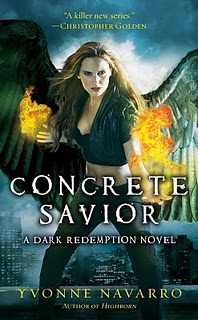 A: In "Highborn" Brynna discovers that saving nephilim, children born of human mothers and angel fathers, is the first step in her search for forgiveness. In "Concrete Savior," she needs to take this further and learn to understand, and perhaps even empathize with, human beings themselves.

Q: Sounds totally great, I can't wait! You've done a lot of tie-in work, all of it on totally cool series like "Buffy, The Vampire Slayer" and "Hellboy" (yeah, I'm totally jealous). How is that different from writing your own series, like Dark Redemption?

A: You're working in someone else's universe and playing-- writing-- by someone else's rules. You're also bound by whatever happened in the movie (whatever's written in the script) and any movies or books that have come before the one you're working on. The more there are, the more complicated it can be. I've been told things like "Buffy would never wear a gold sweater." And things can get tricky when someone who's checking your work doesn't actually know something you do, a scenario I ran into while writing "Paleo." I was given a reason for Buffy's behavior, but the reason was incorrect-- I knew this because I had written the basis for that behavior in a different book!

Q: Your Great Danes are bigger than you. I know, I've seen you and them in person. Why Great Danes? How does having dogs with special needs affect your writing and personal appearances?

A: My Mom put the first Great Dane into my life when I was in the sixth or seventh grade, and I've loved them ever since. I like a dog you can wrestle with and not squash if you step on it. The special needs Danes just happened by accident, back in 2002 when I first saw a picture of our now-gone deaf Dane, Lily. Our most recent girl is blind, which is more of an issue than we realized because she's cautious and doesn't make friends as easily as our other two Danes. She doesn't board well in a kennel and avoids strangers. Still, I think that as she gets older and calmer, and therefore more confident, things will get a little easier. She's also very demanding of attention, and extremely vocal when she doesn't get it. "Rah rah rah rahrahrah!!!"

Q: Big Baby has no special needs, but he's the same way. The hubs says that it shows brain damage, but I think he just likes to share. But, onward! What's one fact about you that someone who didn't know you well or hasn't read this blog wouldn't know? Make it juicy -- my readers expect.

A: I lost one of my ears in a bicycling accident when I was a kid and now I have a prosthetic. I have to be careful about wearing earrings that are too heavy, and once when Weston and I were dancing in a bar in Mexico, he twirled me around too fast and my ear went flying off and landed in a stranger's margarita. Since we both work for the government, it could have been an international incident but what happens in a Mexican bar stays in a Mexican bar. No, really.

Q: OMG, you ROCK! Other than "Highborn", which everyone should race out and get right now, and "Concrete Savior", which everyone should race out and preorder right now, what's coming next for you that we should be hunting, stalking or preordering?

A: Of course I'm hoping for more books in the Dark Redemption series, but I'm still waiting to hear about that. I also have another series planned as well as a thriller I'm working on. There's the unwritten time-travel novel, the unwritten sequel to AfterAge (vampire novel), the two theme story collections, and more. So many ideas, not enough me.

Super! Now, we have the bonus questions that are directed to both of you at the same time.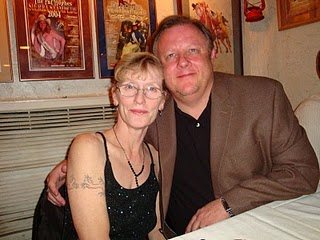 Q: What's it like living with another successful author?

W: Pretty awesome. There is no competition between us. Instead there is a great amount of mutual appreciation. Yvonne definitely understands what it takes to be an author and knows that a lot of that is dependent on private personal time. I think this is a harder thing when you have one spouse who is an author and one who is not.

Y: I hate to admit it but I agree with Wes. A lot of the time we get home, take care of house, dogs and other general stuff, then go our separate ways for literally hours at a time. My office is on the second floor, his is the cave in the basement. It keeps things nice and quiet that way.

Q: Is there a level of competition between you two and, if there is, do you think it helps you write better, faster, etc.?

W: I write using bigger words but Yvonne writes using more violence. I actually just made that up. There is no competition between us.

Y: Weston uses more commas than I do. I did not make that up.

Q: If your spouse had to give up everything they do right now for a living and start a brand new career, what would you want them to do?

W: I'd like Yvonne to be a forensic scientist of some sort. Whether it's digging up old bones, digging up old facts, digging through old things, it's the re-creation of what once was and what could have been which is most exciting to her.

Y: I'd like Wes to be a scriptwriter. I've always wanted to sit back with a big bag of hot buttered popcorn and watch a movie based on something created by one of my friends. How much cooler would it be if that movie was done by your spouse?

Q: What's the best part of having another successful author not only sharing the same house but sharing the same bed?

W: The fact that she's really hot helps.

Y: He's a great foot-warmer.

Q: What's your fave book that your spouse wrote? Not the one he/she likes the best, or the one that's done the best, or gotten the best reviews, but the one YOU like the best. Why?

W: That's a hard one and I really hate you at this moment for putting me on the spot (but it is hate in a good way). Her novel titled Mirror Me is an excellent demonstration of an author's skill. I think it's masterfully written and thoroughly engaging. I just love it. It's only been published as a limited edition hardback and I ache for the day that it gets paperback treatment so that everybody can see what I've seen all along.

Y: I'd have to go for Empire of Salt. It's the zombies and the horror and the Salton Sea. I went there with him when he researched the area, and it's just so cool to see him put it all into words so well. Plus he's so great at building characters and their histories. He rocks.

Let's face it -- you BOTH rock, and rock hard! Thanks so much for being here today at the Blah, Blah, Blah Blog. Thanks for letting my readers get to know two of my favorite authors!

And now, gang, here's the best part! Yes, you know it -- a chance to win FREE BOOKS! So, Yvonne, Winston, what do you have for our lucky winners?

YN: Sure, let's give away a signed copy of Highborn! Go on my website at http://www.yvonnenavarro.com/ and leave a comment under the entry pointing back here to Gini's blog. Also, if you sign up to follow me on Twitter (twitter.com/YvonneNavarro), you'll get an extra entry, and the same goes for if you send me a friend request on Facebook (www.facebook.com/yvonne.navarro.001). After five days, I'll do a random pick out of all the comments and entries and list the winner's name. If there are mucho comments, I might even give away two copies. The winner will have to email me the mailing info. My email address is under the Contact Info link on my website.

WO: And I'll give away a signed copy of Empire of Salt. Here's the rub. You have to go to my Facebook page (http://www.facebook.com/people/Weston-Ochse/593942624) and post a picture of you doing something with salt. There will be one winner randomly drawn from the first six pictures. If there's someone who posts a picture that is just so awesome to stand, and that person didn't get the random draw, then I'll give away another copy.

Is that all? I'll wager the Alien Collective can handle that. Good luck everyone, and if you have questions or comments for Winston or the Lovely Miss Yvonne, just ask!


Shortcut to the Top



Janice Hardy

(Originally posted: Tuesday, October 12, 2010 on Blah, Blah, Blah...)

Well, we have a special guest today at the Blah, Blah, Blah Blog -- author Janice Hardy! Janice is a voracious reader, which used to get her into a lot of trouble in school. Eventually, she figured out writing stories in class made it look like she was doing actual work, so her teachers left me alone. Since then, writing has worked out way better than algebra ever did. She now writes young adult fiction and no one ever tells her to cut it out and pay attention anymore.

For her debut fantasy novel, "The Shifter", she tapped into her dark side to create a world where healing was dangerous, and those with the best intentions often made the worst choices.

She lives in Georgia with her husband, three cats and one nervous freshwater eel.

Q: An eel? Really? Wow. Okay, we'll get back to the eel. First, though, in your debut MG fantasy novel in your Healing Wars series, "The Shifter", we meet Nya for the first time. How did you come up with her?

A: I knew I wanted someone with the pain shifting ability to be the protag, but it wasn't until I did the world building that Nya came to be. I needed to understand more about the world before I could put someone in there and make them suffer (which is very important to me as a writer). She evolved as I wrote that first book and learned more about her.

Q: Can we get a small taste of "The Shifter" for those who may not have read it yet?

A: Sure!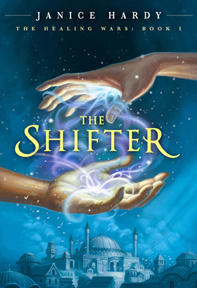 Stealing eggs is a lot harder than stealing the whole chicken. With chickens, you just grab a hen, stuff her in a sack and, make your escape. But for eggs, you have to stick your hand under a sleeping chicken. Chickens don't like this. They wake all spooked and start pecking holes in your arm, or your face, if it's close. And they squawk something terrible.

The trick is to wake the chicken first, then go for the eggs. I'm embarrassed to say how long it took me to figure this out.

"Good morning little hen," I sang softly. The chicken blinked awake and cocked her head at me. She didn't get to squawking, just flapped her wings a bit as I lifted her off the nest, and she'd settle down once I tucked her under my arm. I'd overheard that trick from a couple of boys I'd unloaded fish with last week.

A voice came from beside me. "Don't move."

Two words I didn't want to hear with someone else's chicken under my arm.


Q: ROFL, I love it! The second book in this series, "Blue Fire" releases on October 5th in hardcover. What's new for the characters in this book?

A: They get to travel some (not all of them willingly) and Nya has her world view turned upside down. It was a lot of fun to write because Nya has a very small focus of what her world is like, and the world in general. She "knows" her right and wrong, friends and enemies, and those beliefs are challenged quite a bit in "Blue Fire." Being able to push a character that far outside their comfort zone let me do a lot of interesting things with her.

Q: Is your Healing Wars series a trilogy or do you see it going on beyond three books?

A: Just a trilogy. Every once in a while I wonder about a prequel that deals with the war Nya lost her parents in, then think, "Nah." A short story, maybe, but it's not enough for a whole novel.

Q: You have distinctly different US vs. UK covers and titles for the first book. The blurbs for both are also distinctly different. Why was that, and will it be the same for the rest of the books in this series?

A: There are two different teams working on the covers and the blurbs, one in the US and one in the UK. What works for the one country doesn't always work for the other, and they write/design what they feel will best sell the book to their markets. The US team wrote something new for "The Shifter" cover blub, but the UK team pretty much used my original query letter. Both used "Blue Fire" as the tile for book two, but this time the US team used the blurb I sent in, and the UK wrote something new. The UK also redesigned the covers of both books and they look amazing. So far, it looks like book three will be the same title for both, but different cover art. I've seen early sketches for book three and it looks awesome so far.

Q: I can relate to the joy of having awesome covers. So, other than Nya, who's your favorite character in the series, and why?

A: I'm a huge fan of the bad guys, so Zertanik the pain merchant is my favorite from "The Shifter," and a new character, Vyand, is my favorite from "Blue Fire." Zertanik is fun because he's so irreverent and practical, even though what he's asking for is horrible. Vyand is similar in that she's just doing her job, and she actually likes Nya a lot, despite what she's doing to her. I also have a soft spot for Nya's best friend, Aylin, because she always seems to get the best lines.

Q: Could we get an excerpt of "Blue Fire"?

A: Of course.


"Nya, you'll hate yourself if you do this."

I'd hate myself more if I let another chance to find Tali pass me by. I reached out a shaking hand out and wrapped it around his arm. Felt my way in. Similar wounds, but lower, piercing the liver, stomach. I stopped the bleeding, eased the shock. Fresh pain cut though me and I slumped against Danello.

The soldier stirred.

"As—" My throat wouldn't let the words out.

Danello licked his lips and nodded. "Where are the Takers being kept? The ones deciding whether or not to serve the Duke?"

The solider looked around, confused and scared. "What?"

"The Takers. Where are they?"

"Traitor."

I tightened my grip and pushed, just a little of his pain back. He screamed. I took a deep breath and gathered the pain in the hollow space between my heart and guts, held it there as best I could.

Aylin grabbed my hands. "Nya, stop. There's ugly and there's just plain wrong." She locked her gaze on mine. "I can live with ugly if we get our people back, but I'm not letting you do wrong. Might as well turn yourself in to the Duke if you start that."


Q: Love it! You scored the author's "ultimate", a hard/soft deal. What was that like, and how has it affected your writing, deadlines, promotion, etc.?

A: It felt pretty amazing, as you can imagine. And surreal. I kept waiting to wake up and find out it was all a mistake. I'd break into giggles and say, "I sold my book, I sold my book" at odd moments throughout the day. The deal gave me confidence that I didn't stink as a writer, but then there was the typical second book struggle where I was convinced the first book was a fluke and I couldn't really write, so it kinda balanced out. Now that I've finished book three, I think I've finally figured out how to fit it all into my schedule. But the day-to-day stuff? I dedicate a little more time to write, and when a book comes out I have to be pretty active in promoting it, but my life is basically the same now as it was before I sold "The Shifter."

Having a deadline is both a blessing and a curse. It's highly motivating and makes it a lot easier to make writing a priority. But it can put a lot of pressure on you if the writing just isn't going well for whatever reason. I've always worked in deadline-heavy jobs (I've been a graphic designer for ages, with print deadlines to keep) so I'm comfortable with them.

Promotion has been new for me, and that's been the biggest challenge. Like a lot of writers, speaking in front of large groups of people scares me, so I've had to overcome that for book signings and school events. They're a lot of fun so it's worth it, but I'm always a nervous wreck before them. I also feel bad about "pestering" folks about my book, but networking is all about making contacts and reaching out to strangers.

Q: When is the third book coming, and what's its title? What can we expect for Nya and the other characters in this book?

A: October 2011. Right now it's called "Darkfall," (I think this is the first time I've ever said that publically) but the way my titles have gone, I would not be surprised if it changed. As the final book of the trilogy, it's deals a lot with the war between Geveg and the Duke, and how Nya and her friends fit into that.

Q: Oooh, we got a scoop! Awesome! So, what do you like best about writing for an MG audience?

A: The freedom to do just about anything. Kids have great imaginations, and while they have well-defined BS meters, they'll go with you anywhere you want to take them if you do it right. There's also a wonderful sense of immediacy with MG fiction, because kids can get totally in the moment so much better than adults. Grownups have too much baggage and part of our brains are always thinking about the mundane stuff. Or at least mine is (grin).

Q: I see we both have pink laptops. Excellent choice! So, are you an outliner, linear writer, or scene sewer?

A: Outliner for sure. I need to have a general plot structure with my major turning points to help keep me focused. But within that structure, I let my characters run free. I always know where I'm going, but rarely how I'll get there. This combination keeps me on target but still lets me be spontaneous. I do like to write linearly, since where my characters are at emotionally really dictates what they'll do in a scene.

Q: Morning or evening, chaos or solitude, music or silence? What's your perfect set up for writing?

A: I'm a morning person, so I usually hit the keyboard around 8am, and write until about 11am. If I'm on deadline (and have the time), sometimes I'll write in the afternoons, but I'm most creative in the mornings. I like silence and solitude (except for the cats) since I get distracted easily. I don't like to write every day though, or I get burned out. I prefer to write for a few days, then take a day off. Sundays I don't work on my books at all, but I do write my blog posts for the upcoming week.

Q: So we're exact opposites. No worries, your odd working habits will not affect our friendship. Your career seems to have been mainly arts-focused. Do you still do design work, or are you writing full time?

A: When I went off to college, I knew I had only two real skills. Writing and design. I figured I'd starve a lot faster as a writer than a designer, so I went to school for that. It worked out well, actually, and I still do both. I write in the mornings, then after lunch I work on the design jobs. Both sides have odd schedules, so I'll have weeks where I'm swamped and weeks where I have nothing to do.

Q: You've SCUBA dived and skydived. What's the next dive 'thing' you're going to master?

A: Ooo good question. I really don't know. What others are there? I tried regular old springboard diving as a kid, but hitting the pool from high up hurt. I'm also way too klutzy to do it well.

Q: Sadly, I can relate to the klutzy. Favorite musical artist?

A: Melissa Etheridge

Q: Love her music, too, so nice choice. Now…an eel? Really? How do your pets stack up against mine, The Killer Kitties and The Canine Death Squad?

A: I have three cats, and Eelbert the Eel. With those monikers, I think your pets could take mine any day. But my Nikita could smother you with kitty love. Or just smother you. She's quite the butterball.

Q: She's like my Dementia Kitty, then, at least in terms of size. So, the big question: What's one thing about you that someone who hasn't read this interview wouldn't know?

A: That I'm a huge zombie fan. I even have a yard zombie in my backyard, crawling up out of the ground. I wanted to put him in the front yard, but my husband fought me on that. So it's there under a tree in the back, right in sight if you look out my kitchen windows. New folks come over, look out, and say, "Wow, what a lovely view—oh my gads, what the heck is that thing under the tree?!"

Well, if that doesn't show exactly why I love you, nothing will. Plus, zombie love is definitely going to endear you to a large chunk of the Alien Collective. So zombie and alien lovers alike, if you want to find out more about Janice and her awesome series, check her out on the web.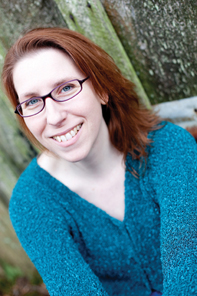 Her blog: The Other Side of The Story http://storyflip.blogspot.com/
Her website: http://www.janicehardy.com

Janice, thank you so much for being here today. And, thank you even more for what I'm about to announce!

Janice will be giving away TWO books to TWO lucky winners! (We're all about the winning this month, aren't we?) Just leave a question or comment for her on the blog, along with your email address. The two winners will be picked at random, and you'll have a choice of either "The Shifter" or "Blue Fire". (And if you're nice, I'll bet Janice will sign and personalize the books for you, too.)

Contest is open to anyone who leaves a blog comment or question for Janice and also leaves their email addy so we can get in touch with you. Contest is international, and will run through Wednesday, October 19th. Winners will be announced by Monday, October 25th.


Shortcut to the Top



AMBER SCOTT

(Originally posted: Monday, June 21, 2010 on Blah, Blah, Blah...)

As promised, we have interview and giveaway fun today! Alien Collective Member in Very Good Standing and awesome author Amber Scott's here today to tell us all about her latest, "Play Fling"!

But first, let me tell you a little about Amber. In between naptimes and laundry, Amber Scott writes romance in varying genres including paranormal and erotica. She knew she wanted to be an author before she could read and, at age four, vividly recalls telling her mother as much. She began writing novels and screenplays after the birth of her first child to see if her childhood dream could come true. She's addicted to chocolate, detests cooking and is a sucker for happily ever after. In other words, my kind of girl! So, let's roll into it.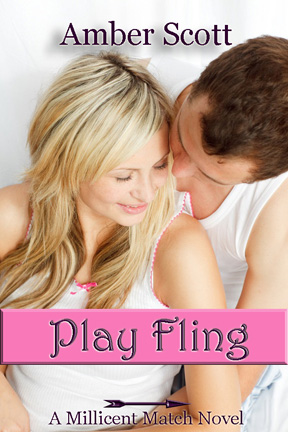 Face Your Target...
Brooke Munkle didn't leave a lukewarm marriage just to flounce into the first hot bed. Too young, too hot, Elliott Jovovich has no business distracting her from starting over. If only he'd get out of her fantasies. Maybe if she keeps things simple, she can allow herself one naughty indulgence. After all, who will know?

Pull The String...
Elliott sees through Brooke's stiff facade. Underneath her struggle to hold it all together, a vibrant, wanton woman is waiting to be freed. To win her heart, he'll play by her rules, which would be a a lot easier if her hostile best friend didn't fight so dirty. Sure, he has ammo of his own, but what he knows could hurt Brooke.

Steady. Aim. Release...
Millie Match isn't sure what she did to deserve this matchmaking hell. The sneaking around, the spying, compatibility issues, chemistry crises. Her target, Brooke, is keeping secrets. Elliott is definitely Mr. Wrong. And if Millie doesn't make true love magic now, she'll lose the one thing in this punishment worth fighting for.


Q: Amber, in "Play Fling" we meet Millicent Match for the first time. How did you come up with her?

A: Brooke and Elliott's story had already formed in my mind. But something was missing. I had begun my first screenwriting online class and the instructor referenced one of my all time favorite shows, Quantum Leap. One afternoon, while thinking about why I loved that show so much, and wondering what ever happened to it, Millie was born. She has a similar situation as the show's hero, Sam, had. In a futuristic science experiment gone wrong, Sam "leapt" from life to life over time to put right what once went wrong. But Millie won't leap time and where Sam was simply dealing with the new life he'd entered with his caring jovial self, Millie is matchmaking and hates it. Becoming a cupid is her punishment, and she has no clue how to match people because she's never loved or truly been loved.

Q: Interesting! So, how many books do you see Millie in before she gets her own happily ever after? After that, will the series be over or continue on? (You know, in that perfect world we authors all want.)

A: I imagine three to six books, the last being where Millie matches AJ, her partner in time. But AJ won't remember who she is, having completed his matchmaking time served. She'll also be returned to her life as Kiki, but with her love lessons learned. Of course, not all lessons because where's the torturous fun in that, right?

Q: Of course right! I like that you make Millie "ordinary" looking, and that it's sort of her cross to bear. This may be a spoiler, but do you plan to ever let her be "hot" again, say in the last book?

A: Yes, in the final book in the series she'll return to being her stunning original self, Kiki, but with the new awareness that being attractive comes with its own hurdles, particularly pre-judgments people make which she's been able to live without for so long. Envy alienates and most don't see her for who she really is, except…well, we can't give away too much, right?

Q: So, Millie's been, what, reborn into this new life? Can you give us a little more about the Kiki situation (as you know, I love that name!) and how it relates to Millie's punishment and potential redemption?

A: Kiki, an infamous socialite still presumed missing in life, becomes Millie, a cupid, as her punishment for a life of gross indifference. Each book filters in more about Kiki's disappearance and choices as well as her growth as Millie, until she ultimately returns to that life, changed by her matchmaking. But the sentence term will depend on how fast she learns. She's a very slow, resistant learner. Much fun!

Q: Totally! "Play Fling" has a May/December romance. What prompted you to have Brooke be older than Elliott? Ashton and Demi or just happened that way?

A: I love the idea of starting over and of deserving something you never imagined possible. The fact that Elliott is younger gives Brooke a surface excuse to hide her true fear of surrendering to love behind. But, Elliott's age actually surfaced when I asked my muse what man would Brooke want most, fear most to love but also who would free her from her fears.

Q: Very cool! So, other than Millie, Brooke & Elliott, who's your favorite character in this book and why?

A: Oh, that's a hard one. I suppose AJ, Millie's partner in time, because he's so bad boy sexy yet good guy levelheaded all at once. He helps Millie through some really bad decisions and their consequences without ever judging her. He's a bit of the dark brooding type that has a shadowed past we haven't seen yet.

Q: Oooh, he sounds delish! Can't wait to see more of him. Heh heh. Okay, mind back to the issue at hand. For now. "Play Fling" isn't your first book. Tell us about what else you have out there and where/how we can find it.

A: I have three erotica ebooks with Liquid Silver Books. "Wanted", "Jessie's Girl", and "The Best Revenge". After two years off from indulging my muse's naughty side, I gave in and just finished an erotica novella called "Love Lust" which is in submissions right now.

Q: "Play Fling" has a light, fun tone even while dealing with the very real subjects of divorce and starting over. Is that your normal 'voice' or was this something you did for this series in particular?

A: I don't normally write so light. But, I wanted this to be a fun romantic comedy with heart and magic. Millie is just so bad at matchmaking and so much fun to torture. Comedy is a challenge for me to write. But I like a challenge and the alternating between genres keep me energized.

Q: I'm so with you there! Okay, I see "Play Fling" as an urban paranormal romance, since Millie, and AJ, are Cupids and there is a fantastical element. Do you agree? If not, why not?

A: I wish I could nail down the genre it falls in! I think of it as a paranormal romantic comedy but Coffee Time Reviews sees it as a paranormal romantic suspense. Maybe paranormal light? Go figure.

Q: Can we have an excerpt?

A: Sure!

If Brooke Munkle checked her watch again, it might as well be announced on loudspeaker: Would the pitiful owner of the rude, no-show friend please remove her denial and vacate the big table? Brooke glared down the lines of creamer skinning her half empty latte cup. Her best friend, Millie, had, in fact and without a doubt, stood her up. Brooke didn't have ten more minutes. She would be in class by then, forced to hand in her paper, unread. "Is this seat taken?" a quiet, sonorous voice asked.

Brooke locked eyes up to one fine specimen of male. He gave her a crooked smile, the charming kind, and pushed his glasses up his very straight nose. Her tongue sucked to the roof of her mouth. "Umm. No." A flutter tickled her voice. "Be my guest."

She straightened, gathering her papers and stack of novels to make room where Millie should be warming space, should be sitting next to her. How awful.

He plopped down a stuffed file folder, his smile brightened, and the chair he took practically screamed over the floorboards. A stream of pages from his folder spilled onto hers. He swept them back into the tattered manila. His loopy smile tipped her way again.

Flutter. This time down in her belly.

Was he searching for something to say? No, no. No need to break any ice on her account. Brooke didn't smile back. Or return his friendly nod. She glanced around the café, double-checking the bookstore entrance Millie typically came through. Three other tables sat empty. Better seats, certainly, than this one.

She shouldn't have taken the big table alone. Everyone tried to muscle in on the big table. Well, he could soon have it. Millie had five minutes left before Brooke gave up. Gaze averted, Brooke sipped her lukewarm latte and put on a cloak of aloof confidence. Eyebrows up, finger to her lips. Looking finely busy and unperturbed, if she said so herself.

Her turtleneck scratched her throat and her pulse thrummed. She kept her hands in her lap. Was it warm in the cafe or was it him?

When Jenny, the barista, abandoned her perch to wipe down Brooke's already clean table again, no question remained. Brooke stuck out. Jenny meant well. Her smile shined a world of good intentions. She couldn't know she made Brooke feel all the worse. Like some charity case. Jenny wiped and lingered. Smiled and wiped.

Or maybe Jenny just wanted a healthy eyeful of broad shoulders. Shoulders angling to make Brooke relocate. Maybe Jenny thought Brooke should move, too.

Where the hell was Millie?

(Want more than the short excerpt we gave you? Head over to The Amber Scott Project and check out the first three chapters (http://amberscottproject.wordpress.com/playfling-excerpt/). Trust me, by the time you've read them, you'll want the rest, pronto!)

Q: Love it, especially that the humor's so there right away. So, are you contracted for and/or writing the next book in this series? If so, when can we expect it? If not, why the heck not?

A: I am about halfway through the next book, "The Sweetest Fling", and now that "Fierce Dawn", my steampunk paranormal romance is finished, and "Love Lust" is in submissions, I'll be completing its draft. Since this whole series will be Indie published, I'm hoping for a January release but much of that will depend on my editors.

"The Sweetest Fling" is about the one that got away and takes Millie up to small town Washington. Lots of wine and lots of complications.

Awesome! I cannot wait!

Q: Now, this last question Amber felt I should have asked but didn't, so, because we believe the interview guest is always right, here goes… Finally, Amber, why are you stalking me?

A: Oh, I'm so pleased you asked, Gini! I have two reasons. One, reading "Touched By An Alien" changed me as an author. I read it and thought, wow, this is how it's done. I not only adored the read, I learned from it.

My blushes! But, you know, do go on…

Secondly, because I learned so much and so thoroughly enjoyed your Desert Rose PAN/PRO pitch class that I will do all I can to support your career. The work you put into my pitch progress alone is worth more money than I could fork over. So, I stalk.

Is it any wonder I love her?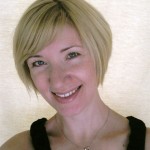 And, here's another reason to love her. Amber's giving away a personalized, signed copy of "Play Fling" to one lucky blog commenter chosen at random (and yes, this IS an International contest). So, leave a comment or a question for Amber or me, and see if you win! The contest will be open until Sunday, June 27, 2010, with the winner announced on Monday, June 28. Good luck to all!

Can't wait to find out if you win or not? No worries, here're the links to buy "Play Fling": Print Amazon: http://www.amazon.com/Play-Fling-Amber-Scott/dp/1451588739/ref=sr_1_1?ie=UTF8&s=books&qid=1276619931&sr=8-1 Kindle: http://www.amazon.com/Play-Fling-ebook/dp/B003JBI2AM/ref=sr_1_2?ie=UTF8&m=AG56TWVU5XWC2&s=digital-text&qid=1276619931&sr=8-2

Amber's easily found at The Amber Scott Project (http://amberscottproject.com). You can also find her plotting away with the rest of her gang, The Plot Mamas (http://plotmamas.com).


Shortcut to the Top



ERIN QUINN

(Originally posted: Thursday, May 6, 2010 on Blah, Blah, Blah...)

Well, as promised, we have a treat today. Awesome author Erin Quinn's joined us to talk about her latest release, "Haunting Warrior". As most of you know, Erin was my first author Spotlight interview. As many of you may not know, she's also been a mentor to me, helping me through the excitement and total chaotic fun that is the release of your first book. (Yeah, in other words, she's heard me whine a LOT …and put up with it, for which I'm sure she deserves some kind of reward.)

But without any further delay (I know, too late!), let's get on with the interview! Erin, welcome to the Blah, Blah, Blah Blog, where the Yap Runneth Over.

Hi Gini! Thanks so much for having me here on your site. You asked some fabulous questions. Hope my answers do them justice.

Oh, they will. They definitely will. So, let's dive right in.

Q: "Haunting Warrior", which released on May 4th, is the second in your Haunting series. The first book in this series, "Haunting Beauty", dealt with romance, time travel, clairvoyance, and ghosts (in a sense) -- awesome paranormal romance all the way. Is the tone of "Haunting Warrior" different or similar to "Haunting Beauty"?

A: I would say yes . . . and no. "Haunting Warrior" is much more action oriented than "Haunting Beauty". It's the story of Rory MacGrath and I really torture that poor man. I've got him running for his life and fighting to protect the woman he loves for much of the story. Of course I left ample time for romance and some snooky. As part of the MacGrath family, Rory has his own special powers and must learn to embrace them in "Haunting Warrior".

Awesome! We love the action and the snooky here at Team Gini. So…

Q: Is "Haunting Warrior" a continuation of Danni and Sean's story, or is it a new set of characters?

A: New set of characters, although Danni and Sean do make an appearance in the story. Rory is Danni's twin brother. Readers met him in "Haunting Beauty" and learned that the night that changed history for Danni and Sean also altered Rory in ways he has never managed to cope with.

Q: In "Haunting Beauty", Danni and Sean have to avert a horrible crime in the past in order to actually have a future. What challenges will your hero and heroine in "Haunting Warrior" be facing?

A: Oh my! That's a loaded question. The night that Rory's father disappeared from the cavern beneath the castle ruins, Rory disappeared too—but only for a few minutes. In "Haunting Warrior", you find out where Rory went and what happened when he was there. Rory has to face his past as well, but not in the same way as Danni and Sean did.

Q: There's a lot of Irish in your Haunting Series. Was that a nod to your heritage, or just because you love Ireland, and Irish lads, in general?

A: All of the above. When you're named for a place—Erin/Ireland—it's hard not to feel an affinity for it. The Irish are an incredible people and though physically I may be a mutt, spiritually I will always claim Irish as my heritage.

Q: What is the string/s that ties your Haunting Series together?

A: The ancient and mythical Book of Fennore is the common thread through the entire series. Each story digs a little deeper into what it is, how it came to be, what it can do . . . .and how to destroy it . . . .

Cool. I, personally, loved the Book, so I'm glad, in that sense, that it's going to remain a major player. Good evil shouldn't go to waste!

Q: I liked how you used Celtic language in "Haunting Beauty" -- it was always appropriate and I could also always figure out what the words meant, even if I hadn't seen them before, without your doing a lot of narrative or dialog exposition. How hard, or natural, was that for you to do? And will there be more of that in "Haunting Warrior"?

A: It's really funny—I have no ear for languages. I can barely speak my own, ha ha. My husband is fluent in two languages and can understand a handful of others but me . . . not so much. However, my writer's ear is very good with them. I can write a dialect I can't speak and probably couldn't understand if I heard it if that's not the craziest thing you ever heard. I don't know how it works, but it does so I take it as a gift.

Q: I loved "Haunted Beauty" because of the complexity of the situation as well as the characters. What will I love about "Haunting Warrior"?

A: Rory. Rory. Rory. I loved writing Rory and I still think of him all the time. He was such a wonderful hero to work with. He's special because he has so many issues but he really wants to be the man Saraid (our heroine) needs him to be. Saraid helps him get there and I think the chemistry between the two of them brings the whole story to life.

He sounds hunkalicious. Sean was a total hunk and a half, so can't wait to see what you've done with Rory. Now…

Q: Some may have already gotten and devoured "Haunting Warrior" by now. For those who haven't grabbed it or read it yet, can you give us a little taste?

A: Absolutely! So here's a slice from the scene when Danni and Rory talk of the Book of Fennore. She's just picked him up from the airport—his first time home since he was sent away as a kid. He's come back for his grandmother's funeral—a funeral the ghost of his grandmother invited him to attend.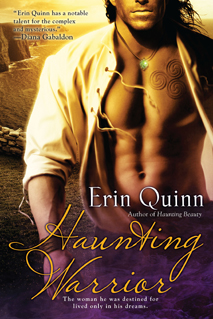 Rory shoved his hands into his pockets, afraid they might shake as they had last night. "Nana came to see me," he said softly.

Danni gave him a sharp look. "When?"

"Night before last." A part of him couldn't believe he was saying it out loud. A part of him wanted to laugh even as he remembered how it felt when he'd realized who was sitting in his car. "When I got off work, she was waiting for me."

Danni made a sharp sound of amusement. "Bet that scared you out of your knickers."

He forced a stiff smile.

"And what did she say?" Danni went on as if they were discussing the price of milk and eggs. "I've died, so come home?"

"Something like that."

"She wanted something, didn't she? She called you home to find the Book. Is that the way of it?"

He shouldn't have been surprised she'd know that detail, too, but he was. Reluctantly, he nodded.

"I can see there's no point in telling you not to do it, but it's dangerous seeking something that shouldn't be found. What did Aunt Edel say when you told her?"

"I didn't tell her. Why would I?"

Danni looked at him in shock. "You mean you don't know?"

"Know what?"

"Edel has used the Book, Rory. Did you never notice her eyes? How queer they are?"

Rory stared at his sister, open-mouthed.

Edel had used the Book? Edel, who he'd lived with until he was old enough to move out on his own?

Suddenly it made so much sense. Suddenly he understood why his parents had sent him to his crazy aunt with her flat, dark eyes. Why she alone had been able to put fear into Rory's heart. They were kindred in more ways than blood.

"Why didn't anyone ever tell me?" he asked, angry.

She shook her head, clearly as surprised as he by this giant hole in his education.

"Who told you?" he demanded.

"I don't know. I've just always known."

If he hadn't hidden himself so far from home, perhaps he would have known, too.

"Rory," Danni said, and something in her voice had changed. He looked at her, found himself staring into those luminous eyes of hers—gray and stormy, like the Irish Sea itself. For one weak moment he'd wanted nothing more than to embrace his sister and tell her how much he'd missed her. How much she meant to him. How sorry he was for hurting her along the way to his liberation. But he didn't move and he didn't speak.

"I have something for you," she said. "In case I don't get the chance to talk to you alone later."

She pulled a small green box from her pocket. He stared at it curiously but made no move to take it.

"Nana wanted you to have this and she knew mum would keep it from you if she could, so she made me promise that I would give it to you."

She thrust the box out to him with a reluctance he couldn't miss.

And suddenly he knew what was inside before he even opened the lid, knew what it meant that Nana had gone to so much trouble to make certain he received it. Knew this was what she'd told him he would need. Slowly he took it from his sister, his big hands dwarfing the tiny box. He hesitated, and then finally he lifted the lid.

Inside, nestled on a piece of cotton, was the pendant.

Q: After "Haunting Warrior", what's next and when are they coming?

A: "Haunting Desire" is slated for March 2011 and "Haunting TBD" for October 2011!

Super, I can't wait! Especially for "Haunting TBD"…I love that title best, I think.

Gini, thanks so much for hosting me here! This was such a fun interview! I would love to give an autographed copy of "Haunting Beauty" away to one of your blog readers!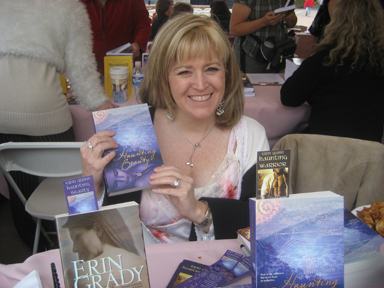 Wicked cool! Okay gang, you're all used to how this works, I know. Leave a comment for Erin here at the Blah, Blah, Blah Blog any time between now and Sunday night. On Monday we'll do a random drawing and one of you will win an autographed copy of "Haunting Beauty". And for the dudes in the Alien Collective -- trust me, your womenfolk will want you to try to win.

Love, Gini


Shortcut to the Top



DEBORAH LEBLANC

Look who we have on the Spotlight hit parade! That's right, direct from a slinky, atmospheric, Louisiana bayou is amazing author Deborah LeBlanc! Deborah is an award-winning, best-selling author and business owner from Lafayette, Lousiana. She is also a licensed death scene investigator and has been an active paranormal investigator for over fifteen years.

Her most recent novel is "Water Witch", and her latest book, "The Wolven" is scheduled for release this fall. Soon to follow is "Ghost Box", the first in the supernatural thriller series "Ghost Trackers". For more information, visit http://www.deborahleblanc.com and http://www.literacyinc.com.

She's also a ton of fun and a good pal of mine (and no, we will NOT let 'those pictures' out of our control) so, on with the questions!
Q: What prompted you to become a writer? Was it voices in your head, a burning desire to tell a story, or just too creative for your own bad self?

A: My love for storytelling came from my grandmother, who, in my opinion, was the best tale-spinner on the planet. I remember sitting at the foot of her rocker, utterly spellbound as she told story after story, all of them fact, not fiction mind you, of supernatural events that some uncle, aunt, or cousin had encountered 'back in the day.' Being Cajun, it was only natural that her entire body played a part in the telling of the tale. Her hand gestures were emphatic, her eyes widening or narrowing for effect, her entire body tensing and leaning forward as she reached the spookiest part of the tale. I remember wishing I could be just like her.

Second to the love of my grandmother's stories was my fascination with words and their meaning. Even as a kid, I thought it was important to use the perfect words when conveying anything of importance, especially emotions. Little did I know that those two loves would steer me towards writerdom.

Growing up, I didn't have aspirations of becoming an author. In fact, aside from a few short stories written out of boredom in grade school, the thought of being a writer never crossed my mind. Instead, I dreamed of being an astronaut, Superman, a nun, a bull-rider, a singer, and a teacher. It wasn't until life had me well in the grips of adulthood that the storytelling urge overtook me, and I started penning tales.

At first the task was frustrating and daunting. Although I saw the story clearly in my head and could have easily told it standing before a million people, writing it without the aid of hand-gestures, facial expressions, or body language seemed impossible. It took a dozen or more false starts before it finally dawned on me… I could use all those expressions of passion and conviction . . . if I chose just the right words. You've got to love how life sets you up sometimes, you know?


Q: What was the first book or piece that you wrote and why?

A: I was in the second grade when I wrote my first story. It was about a mermaid who grew legs. My teacher confiscated that story because I was supposed to be doing math problems at the time. She pulled me aside after class to let me know that she'd read the story, loved it, and had even given it to some of the other teachers to read. Now, you'd think I'd be thrilled to hear that kind of news, right? Well, I was, sort of. I was an uber-shy kid back then and was a little embarrassed by all the hoorah. I just wanted my story back. And still do . . . I never did get that story back.


Q: What was the first piece of yours published? When?

A: My first novel was my first published piece, and that was eight years ago. I was sitting with my youngest daughter, who was in the hospital with gallbladder issues, when my agent called to tell me we had an offer on Family Inheritance. I whooped—too loudly evidently because a nurse came rushing into the room—then did a happy dance.


Q: What stories interest you the most and compel you to write?

A: Any subject that's out of the ordinary interests me. I guess that's why I'm so often drawn to the paranormal and supernatural. So many story possibilities exist when you're writing about a place/thing no one truly knows anything about.


Q: What's your most and least favorite things about being an author?

A: My favorite thing is that I can work in my P.J.s and my least favorite is when everyone else is heading out on an adventure, and I'm stuck at the computer because of a looming deadline.


Q: Writing styles -- outline or wing it, music (and what kind) or silence, chaos or serenity? Only novels or other lengths as well?

A: Kinda both on the outline and winging it. I usually start out by numbering a page 1 through however many chapters I think the book will have, then write a sentence next to each number that identifies what that scene/chapter should be about. As for length—whatever it takes to tell the story.

I prefer silence when I write. Music is too distracting to me because I always find myself singing along, or if it's an instrumental, trying to fill it in with lyrics. Argg! Sometimes even white noise, like the hum from an air conditioner vent, drives me nuts.


Q: What authors inspire you and why?

A: Tom Robbins is a master at the English language, in my opinion, and he uses that talent to tell sardonic, sarcastic stories other authors would probably NEVER consider writing….or could never get away with writing! I also love authors like Jodi Picoult and James Lee Burke. Both are remarkable at creating three-dimensional characters.


Q: Words of advice for fledgling authors?

A: The only ones that count…read, read, read—write, write, write—and NEVER give up!


Q: Do you have pen names? If so what are they? Why did you choose to use pen names? If not, why not and what would make you consider using them?

A: Nope, so far everything I've written has been under my own name. It just made sense to use my own name. I mean, I'm the one telling the story, right? Not some woman named Josey Posey, Mary Berry, Suzy Boozy, or whatever other name I might have used.


Q: What's one fact about you that someone who didn't know you well or hasn't read this interview wouldn't know? Make it juicy -- my readers expect.

A: Juicy, huh? Well, juicy to me might be something completely different to your readers! That said, I'll keep this rated PG. Let's see… I can't carry a tune in a bucket, and I love reading, writing, children, dogs, horses, and Jelly Bellies. I believe a person's word should be stronger than steel, and think that whatever you put your hand to in life deserves a 110% effort. If not, leave it the hell alone. Oh, and one more important thing . . . that anyone who doesn't read aloud to their young children should serve a lifetime of Saturday detentions in an un-air conditioned laundry mat filled with bored four-year-olds in the middle of August anywhere in the South.


Isn't she great? Here's some more info about Deborah. She's the president of the Horror Writers Association, the Writers' Guild of Acadiana, and Mystery Writers of America's Southwest Chapter. In 2004, she created the LeBlanc Literacy Challenge, an annual national campaign designed to encourage more people to read. Two years later, she founded Literacy Inc. a non-profit organization dedicated to fighting illiteracy in America's teens.

She's also running an awesome retreat, Pen to Press Writers Retreat. To find out more about it, visit http://wwwpentopressretreat.com.

You can also follow Deborah here...
http://www.twitter.com/deborahleblanc
http://www.facebook.com/pages/Deborah-LeBlanc/101414736568828?ref=ts
http://www.facebook.com/theofficialdeborahleblanc
http://www.myspace.com/deborahleblanc
http://www.deborahleblanc.tv
...tell her Gini sent you!


Shortcut to the Top



CELINA SUMMERS

Next up is Author and Editor Celina Summers. She currently has two series being published by Aspen Mountain Press--The Covenants series (co-written with Rob Graham), which takes the vampire back to its Gothic roots; and her Mythos series, which explores some of the lesser known Greco-Roman romantic myths in a modern narrative style. Her excellent Golden Rose nominated epic fantasy series, The Asphodel Cycle, will soon be followed by a second series set in the same world. The Gods of Asphodel series should begin release in 2011. She's also become an editor for Aspen Mountain Press, presumably because she wanted an excuse to stop sleeping.
Q: What prompted you to become a writer?

A: I was one of those weird kids who learned how to read abnormally early. I started writing stories to entertain myself when I was in the second grade. I didn't start writing with an eye to publication until five years ago. I'd been in a car accident that seriously injured my back and had to quit work. We were dirt poor—no cable, no internet, not even a phone. My reading habit was too expensive even with trading in books at the second hand store. So I pulled out a story I'd written at sixteen and began to revamp it.


Q: What was the first book or piece that you wrote and why?

A: The book I wrote at sixteen was an early (and very bad) version of The Reckoning of Asphodel, which turned into the first book of my four-book fantasy series The Asphodel Cycle. I wrote it just to entertain myself; my husband was working two jobs and I was by myself for most of the day. After a few days, though, the story took hold of me. I'd start writing as soon as I woke up because I wanted to know what happened next.


Q: What was the first piece of yours published? When?

A: The Reckoning of Asphodel was published by Aspen Mountain Press in August of 2007.


Q: What stories interest you the most and compel you to write?

A: Lately, I've been really fascinated with the idea of what would happen if a god was confronted with the religion that worshipped him or her. That aspect of deity versus religion is showing up in a lot of my work in different ways. I'm writing a lot of mythological fantasy, like my Mythos series which is currently being released, and a couple of urban fantasy and paranormal projects.


Q: What's your most and least favorite things about being an author?

A: There's really not a lot I dislike about being an author, unless it's the submission process. I'm always so convinced about how great my work is until it comes to the point where I have to send off chapters to a total stranger and hope for the best. At that moment, I'm always convinced I suck. The favorite part of being a writer is the ongoing mystery of it. I don't outline so I always wonder what's going to happen next or whose fault is it or where I should take them next. It's always a new adventure, and I love that part of it.


Q: Writing styles -- outline or wing it, music (and what kind) or silence, chaos or serenity? Only novels or other lengths as well?

A: Let's see—wing it—but I always know what the ending is going to be before I type Chapter One; classical and/or silence depending on what I'm writing (I have playlists for certain pieces or types of scenes—like fight music and so forth); neither chaos nor serenity will interfere if I'm determined to write; and I write everything from short stories to fantasy series, but I'm more comfortable with novel length works. All those jokes about my middle name being epic? It's a fib. Really. I swear.


Q: What authors inspire you?

A: There are way too many authors who inspire me to list. I read everything from classic Greek and Romans to Austen and the Brontë sisters to Georgette Heyer and Victoria Holt. In fantasy, I love the evolution of woman writers from Hope Mirrlees (her Lud-in-the-Mist predates Tolkien by a decade) to Marion Zimmer Bradley, Nancy Springer and JK Rowling. Currently, my favorite fantasy author is Jacqueline Carey. Her Kushiel's Dart series is one of the most enthralling stories I've read in a long time.


Q: Do you have pen names?

A: I don't have a pen name. Everything I write goes under my real name. Perhaps someday if I branch out of speculative fiction into literary or historical fiction, I'll write under a pseudonym, but not now.


Q: Why, with a writing career going, did you decide to become an editor?

A: It kind of happened by accident. I offered to help my publisher get caught up on a backlog of accepted stories and ended up getting hooked. Editing is a different kind of satisfaction for me. I really like helping other writers work through their stories as they get ready to be published. I've also discovered that my technical writing skills have improved as a result of editing and I'll take any additional skills I can get.


Q: What kind of stories are you looking for?

A: First and foremost, I'm looking for stories that are interesting from the beginning. I can overlook technical errors (unless they're everywhere) if I find myself gripped by the story or if the characters are engaging. I can usually tell within a chapter if the story is going to work or not. In speculative fiction, the world has to be complete and credible. I not only have to believe the world the writer has established, but it has to suck me in.


Q: What kind of authors are you looking for?

A: Authors with great stories first and foremost. It's also important to find authors who are excited about their stories and characters, who understand that the editing relationship is a partnership. Between writing and editing, my schedule is jam-packed. I don't have time to deal with a writer who isn't willing to compromise. An editor establishes a dialogue with a writer; it's hard for that to work if one or the other isn't listening to what their partner is saying.


Q: What are the highs and lows of editing?

A: The highs come when a writer has that "Eureka!" moment after something I've commented on. The lows come when the writer doesn't have that "Eureka!" moment no matter how hard I try. That and deadlines. Deadlines have a nasty habit of creeping up on you.


Q: What's your pet peeve as an editor?

A: Basic common mistakes—homonym confusion drives me up the wall. Come on, now—'there' and 'their' or 'your' and 'you're' mistakes should never pop up in a manuscript you've submitted for publication. Between that and imaginary words--like 'irregardless'—my pet peeve meter is going off overtime.


Q: As an author who's also an editor, what one or two things do you think authors need to keep in mind when writing and submitting?

A: I think authors should always remember that writing is a business. Prepare your submissions as you would any other representation of your professional merits. A submission is your resume—you should treat it like one.


Q: What's one fact about you that someone who didn't know you well or hasn't read this interview wouldn't know?

A: My first date with my husband took place at a gay bar I worked at as a bartender and a singer. He helped me dress drag queens for a show. I figured that if I was going to date this guy, he might as well get a really good idea what my life was like. He zipped a 6' 7" drag queen wearing six inch heels into a crystal-studded evening gown without batting an eye. It's hard to find a man who's that comfortable in his own skin—even out of his element. He basically moved in with me that night and hasn't left since—and it's been ten years. When you find a man like that, it's best to grab hold of him while you can.


How can you not love her? Show the love and visit Celina at her website, Shoot The Muse! http://www.ShootTheMuse.bravehost.com, or her blog, Elf Killing and Other Hobbies at http://www.kaantira.blogspot.com. Tell her Gini sent you.


Shortcut to the Top



CHRIS STEVENSON

Next up on Spotlight is author Chris Stevenson. I've had the pleasure of knowing Chris for a few years now, and he's been one of my inspirations. Chris has published two non-fiction books, two radio plays, five novels, numerous short stories to the major slick magazines, and hundreds of articles and profiles to the newspapers. His latest excellent release, the paranormal romance "Gatewalker", is available now at Amazon.com.
Q: What prompted you to become a writer?

A: I think it was right around 1975 when I read an issue of Twilight Zone Magazine, published at that time by Carole Serling. I forget the tale, but it was spec fiction, with an interesting hook. I smugly thought that I could do that easily enough, even better. Why not? All the girlfriends I'd written letters to said that I had beautiful prose. How hard could it be? About six months and 200 rejections later, I revised my earlier claim, and knew that I'd gotten myself hip-deep into something I knew nothing about. That's how hard it could be.


Q: What was the first book or piece that you wrote and why?

A: The first book I wrote was called The Teons, and it was about an alien race that arrives on earth to pick up a human breeding couple and install them in a zoo. It was a 650 pages disaster, written on lined school paper, totally unpalatable to even my best friends. It was a learning experience that taught me that I could go the distance, but also that I had no idea what a run-on-sentence was. I wrote it to entertain myself. I had to hit the books.


Q: What was the first piece of yours published? When?

A: It had to be right around 1987 when I published my first short story. It was Gordon Linzner's Space and Time magazine. Now I'm really dating myself. It paid a penny a word, and I think I made over $35.00 for it. But that was a struggle because I'd failed with about 15 prior attempts. Gordon knew me on a first name basis by that time. Things started to click in the short story market after that. Amazing Stories came next.


Q: What stories interest you the most and compel you to write?

A: All spec fiction. Yet I've always had a soft spot in my heart for Science Fiction, and that was the genre I set my guns on. I've always loved science and technology. Then again, SF gives you the opportunity to, not build a world, but to construct a complete universe. How much more Godly can you get than that? I had no idea how difficult that genre was to break into. But I never stopped writing it, hoping one day to break in.


Q: What's your most and least favorite things about being an author?

A: My least favorite is the weeks, months (sometimes years), it takes to finish a novel, and then enduring an equal amount of time revising it to the point of near perfection—all the time knowing that there is no guarantee of anyone falling in love with it or taking it to print. Writing has the worst odds I've ever seen for any vocation. It pays the least of the entertainment fields, certainly in the beginning, and is just as difficult to get into as the acting or music industries.

My favorite? That has to be when I'm floating down the aisles at the ABA (American Booksellers Association, now called Book Expo America), swooning nearly out of my pants because I have a brown author's badge on the chest. I come to my booth and see my book's cover blown up to ten times it's size. Just when I think it couldn't get any better, I'm having lunch with a crazy, young upstart author, talking about the biz, and eating tuna fish sandwiches. That author was Clive Barker. It was the first milestone in my career. Two years later, I had repeat at the same convention —- different book -— different menu -— different author. This time it was Octavia Butler.


Q: Writing styles -- outline or wing it, music (and what kind) or silence, chaos or serenity?

A: I don't use an outline until I'm hopelessly stuck somewhere in mid-book and I have no way out, or direction for the plot. That's only happened twice. I'm an organic writer; I plot as I'm splashing ink. The story and sometimes the characters are like traffic cops who are directing me through the whole process. I like to stay a chapter ahead in my mind. An outline can derail me and do more harm than good sometimes. But I do create laundry lists of characters, their bios, locations, and any notes on lore, science, history, or mythology.

I don't listen to music at all, or drink. I do smoke some. But I don't need it to be quiet at all. I can blank out the loudest children's screams, and that's an everyday occurrence.


Q: What authors inspire you?

A: The very first ones I read inspired me. I call them stylists, because they have a great sense of irony and comedy timing, with tons of wit. Those would include Poul Anderson, Allen Dean Foster, Joseph Wambaugh (a cop no less), Michael Crichton, and Peter Benchley. Not to forget Steven Spielberg's Close Encounters, which I thought was a masterful piece of writing for such a little book.


Q: Words of advice for fledgling authors?

A: So you want to be a writer? Okay. Take a couple of aspirin, go into a dark room, lay down and wait for the feeling to pass. Seriously, you're going to need brass orbs to break into this business, and the biggest brass ones to stay in it. It's not for the faint of heart. Writing is a craft that can be learned. That means you go back to school again and do all of the necessary homework it requires. Oh, yeah, and remember you'll never graduate—ever. How's that for just the starters? Here's a little ditty I wrote to myself, to remind me of the foibles and challenges of this vocation.


A Writer is...
A humble, receptive student and negotiator
But the heart that beats within his breast
Is a determined savage
Unfamiliar with surrender


Q: Do you have pen names?

A: I don't have a pen name and I've never used one. I want everybody to know my name, especially those schoolyard bullies, those girls who spurned me, the English teacher who told me I was verbose, before she said I was gross, and everybody else in sundry. I swear, a publisher could put a gun to my head, demanding that I use a pen name. I would just tell 'em to go ahead and shoot.


Q: What's one fact about you that someone who didn't know you well or hasn't read this interview wouldn't know?

A: Hmm…a little secret I hold dear to me? Sure. Well, I have a commendation for bravery from the United States Government, for evacuating 290 people from a burning United States Geological Survey building, then proceeded to the fire to put it out single-handedly. I sustained injuries during the firefight and was hospitalized. Afterwards, I never dated so many cute and grateful female geologists and Physical Science Technicians in my life. I seriously thought about torching USGS headquarters and performing the same deed. But I knew that would have been greedy.


Visit Chris on the web at his Booksie page, http://www.booksie.com/Chris_Stevenson, or at his website, http://www.freewebs.com/uncle1/, and get your copy of "Gatewalker" from Amazon to enjoy not only a great paranormal romance, but a disgustingly wicked cool villain -- and I mean that in the best way!


Shortcut to the Top



ERIN QUINN

My next interview is with awesome author Erin Quinn. Erin's latest release, "Haunting Beauty," is available now from Berkley Sensation and per Diana Galbaldon, "is a complex, mysterious, and very satisfying story." Per me, it's a great read and Erin's wickedly cool.
Q: What prompted you to become a writer?

A: You know, I think I always wanted to be a writer. When I was a kid, I used to tell people that was what I wanted to be when I grew up. Then I grew up and became a bartender. But as life has a way of doing, my path eventually took me back to my dreams when I moved to San Diego and took a clerical job at San Diego State University. That led me to working on the SDSU Writer's Conference and the rest was history.


Q: What was the first book or piece that you wrote and why?

A: My first book was "Web of Smoke." I had started the book and entered it in the RWA Golden Heart contest. Back then, the book didn't have to be finished to enter -- but if you progressed to the finals, it did. I remember I was 8 1/2 months pregnant and had just one on bedrest when I got the call that I was a finalist. I couldn't believe it. She told me I had 7 days to finish the book and put it in the mail. Somehow I did it. I Fed Ex'd the finished manuscrip and went straight to the hospital and had my baby.


Q: What was the first piece of yours published?

A: "Web of Smoke." It took me another year or so to get it ready for publication, but I sold it to the first editor who read it.


Q: What stories interest you the most and compel you to write?

A: I was a HUGE Stephen King fan and a big romance fan. I loved Harlequin romances and Janet Dailey was one of my favorites. But when I read Stephen King, I'd think, I would love this if there was just a little smut in it. Romances? I kept wishing there were a few thrills and chills in it. So when I started writing, my goal was and still is to mix those elements. I hope to make my readers fall in love while I'm scaring the pants off them, ha ha.


Q: What's your most and least favorite things about being an author?

A: Deadlines for both. My best friend and worst enemy.


Q: Writing styles -- outline or wing it, music (and what kind) or silence, chaos or serenity?

A: I wing it, unfortunately. I WISH I was the kind of writer who plotted it all through and knew exactly what was going to happen, but it just doesn't work that way for me. I've tried outlines, made detailed charts, planned it all out and then I get writing, get off track and the next thing I know... I'm winging it again. I like to write in silence -- mainly because I tell the story to myself as I'm writing. (Yes, I talk to myself. I'm certifiable.)


Q: What authors inspire you?

A: There are so many authors that I love, it's really hard to answer that question. I'm a big Shana Abe fan. I loved Jennifer Ashley's last book, "The Madness of Lord Ian Mackenzie." If you haven't read it, it's fabulous. I could go on all day about the authors I love. There are so many that sometimes I feel like a hack trying to pass myself off as a writer.


Q: Words of advice for fledgling authors?

A: Thick skin. You gotta have thick skin to be in this business and you need to be determined. Most writers hear a lot of "no" before we ever hear a "yes." If you don't want to be a writer more than anything, you might want to think twice before you put all your energy into it. It's a tough business. I always joke that writers are like starlets in Hollywood. If one of us gets hit by a bus, there's ten more standing in line to take your place.


Q: Do you have pen names? If so what are they? Why did you choose to use them?

A: I write as Erin Quinn, which is a pen name and Erin Grady which is my maiden name. When I sold my Haunting Series, my publisher wanted me to choose a pen name because it is so different from my Erin Grady books. I've heard this is pretty common from other writers.


Q: What's one fact about you that someone who didn't know you well or hasn't read this interview wouldn't know?

A: I sat in the gas chamber at Florence State Penn and lived to tell about it! Oh, and I make great salsa.


Look for Erin's next releases, "Haunting Warrior," coming from Berkley Sensation May 2010 and "Haunting Desire," coming from Berkley Sensation in 2011.


Shortcut to the Top



VERNA DREISBACH

My second interview is with fabulous agent Verna Dreisbach. Verna's totally cool and fun -- can't beat that combo!
Q: Why did you decide to become an agent?

A: Becoming an agent was purely an accident. I returned to college to earn my single subject English credential so that I could pursue teaching. A professor recognized my creative writing ability and suggested I enter a literary contest which I subsequently won. I was surprised not only by the professor's suggestion, but by winning as well. I started an internship with a literary agent reviewing queries and incoming manuscripts. I figured the best way for me to learn about writing and imporove upon my own skills was to see the porcess up close and personal. I didn't expect that I would fall completely in love with the job. I still have my certification to teach English, but I couldn't see myself removed from the world of publishing and writing.

Beginning this career from the mindset of a writer, I believe that I share a passion and understanding with other writers who are trying to navigate their way into the world of publishing. The best part of being an agent is when an author tells me that I've made their dreams come true. It can't get any better than that!


Q: What kind of books are you looking for?

A: I'm looking for well written books with a distinctive voice. I want books that a writer has poured their heart and soul into -- each and every word. I want to feel that they didn't rush through their manuscript, that they took the time to create and master the art of storytelling. Writing fiction is an art, and should be treated as such. I receive an innumerable amount of submissions where it is apparent that the author rushed through their story without stopping and getting to know their characters. Fiction writing is an intimate experience and the more in touch the writer is with their characters, the more real they will become to the reader. I want to feel what I read.

I'm open to just about any type of non-fiction with an author who has an expertise in their field and a solid platform. Non-fiction needs to be presented to agents with a detailed and professional book proposal. This is no easy undertaking. Most proposals run at least a dozen pages, and that doesn't include the sample material from the book. If I get a half-hearted attempt at a book proposal, then I figure I'm getting a half-hearted attempt at a book.

To the non-fiction author, the idea of a book should be only a minor part of their work, not the end goal. The book should exist to aid them in achieving whatever purpose they're trying to achieve in their profession -- book sales and promotion will naturally follow. They're writing a book and willing to promote it with or without the publisher's help and there is no doubt as to its potential success. Their only concern should be with which agent they want to represent them.


Q: What kind of authors are you looking for?

A: I want to represent writers -- those who will continue to write regardless of whether or not they ever see their book on a bookstore shelf.

I consider professionalism just as important as good writing. I've had prospective clients change my mind as to representation based upon incessant emails, telephone calls, unrealistic expectations, and just plain rudeness. I choose authors that I connect with professionally and personally. I believe that we have to like each other and resect one another as with any type of friendship or personal acquaintance.


Q: What's your preferred way to find a new author to represent?

A: I don't have a preferred method. Referrals are nice, but I also enjoy meeting writers at conferences. I can put a face to a name and the writing and the process becomes more personal. When I get really busy and my client list is getting full, the cold queries are the first and easiest to say no to. Unfortunate, but true for most agents. Although, I hope it helps some authors to realize that a rejection might not be because they don't have a noteworthy or intriguing prospect, it could just be a matter of poor timing.


Q: Where are you located and what's the best way to reach you with a query?

A: My office is located in California. I prefer to be queried via email rather than by mail. My email address is Verna@Dreisbachliterary.com

Queries should be presented as a professional business letter. Agents want to know what you have right away - fiction, non-fiction, memoir, genre, word count. Also needed is a short synopsis or details of the project, preferably in the style and tone of the writing and a short bio with pertinent details.

Don't get creative with ploys such as all caps, underlining the entire letter, fancy/unreadable font -- it will not be read because it hurts our eyes. Addressing an agent personally, rather than Dear Sir/Madam/Agent, will ensure an agent gets to the first paragraph of your query. As always, please review each agent's preferences since we all differ in how we like to be approached with a query.

Good luck and keep writing!


Q: What's one fact about you that someone who didn't know you well or hasn't read this interview wouldn't know?

A: Most are suprised to discover that I was a police officer, and many don't believe me initially. I worked for the Sonoma County Sheriff's Department and the California Highway Patrol, both in California. When I tell them what agency I used to work for, they usually follow up with clarifying questions such as, "a dispatcher" or "in the office?" I tell them, "NO, I got the gun and the car!"


Shortcut to the Top



CHERRY WEINER

My first interview is with fabulous agent Cherry Weiner. In addition to her loads of industry experience, she epitomizes the term 'firecracker'.
Q: Why did you decide to become an agent?

A: I didn't. I had worked for an agent and when he fired me, a bunch of his authors, each separately, decided that I had enough push to open my own agency. It took them two years of trying to convince me, but what finally did it is they sent me some manuscripts from new authors and asked me to help those authors. Before even opening the agency, I had about 10 clients.


Q: What kind of books are you looking for?

A: I hate to say the standard line but that really is the only way to go -- A GOOD READ. Something that will keep me interested and reading until the end. Any kind of adult fiction. I very rarely handle non-fiction or children's and never handle poetry or short stories.


Q: What kind of authors are you looking for?

A: Authors that know what a tough road publishing is and are willing to work hard to get on that road, and have the perserverance and patience to continue working while they wait for those magic words ***we have sold your book***.


Q: What's your preferred way to find a new author to represent?

A: Talking to authors at workshops and conferences, or ones that will come recommended by someone who has read the author's work, knows me and knows how I work and thinks that we might be a good fit.


Q: Where are you located and what's the best way to reach you with a query?

A: I'm on the East Coast, and the best way to query is to meet me at a conference, introduce yourself, and chat. I go to a variety of conferences each year, so there's always an opportunity.


Q: What's one fact about you that someone who didn't know you well or hasn't read this interview wouldn't know?

A: I want authors to believe that when I take them on as clients, I will do my very best for them. I cannot guarantee anything but that I will do my best.


Shortcut to the Top
Want to know what's happening with me first? Send your email address to gini@ginikoch.com with "Hook Me Up!" in the subject line, and I'll add you onto my email blast. You'll be the first to know about news, excerpts, book releases, contests and more.
I'm also on Pinterest!
http://pinterest.com/ginikoch/
|Blah, Blah, Blah... |
| Bookstore |
| Alien Collective Depot |
| Licensed Products |
| Accolades |
| Invasion of the Blog Tour |
| Playlist |
| Newsy Stuff |
| Datebook |
| Deathless Prose |
| Expanded Universes |
| Spotlight |
| Extra Me! |
| Free Stuff |
| Sightings in the Wild |
| Cool Links |
| The Centaurion Files |
| The Necropolis Files |